See Laura Loomer, the Right Wing warrior's take… not what you think I bet…. below the vid
Don't listen to people who are telling you the @Barbie Movie is "woke". If anything, it's a genius mockery of wokeism. The movie revolves around the fact that there's only 2 genders. It admits that in order to be a real woman, you have to have a vagina, and to be a man you have to have a penis. The movie is mockery of feminism and suggests that if you want to have a world that is unrealistic and run by women, then it's a fantasy land like Barbieland where women think they are in control, but children are actually controlling their destiny. The movie revolves around the concept that men run the real world, which is true.
The movie also mocks youth who use terms like "fascism" to attack things and people they don't like. Ultimately, the female protagonist of the film decides that she is happier living in the real world that is run by men. Barbie also tells Ken that he is more than simply what a woman thinks he is. It reaffirms that men don't exist solely for the sake of satisfying women. That is an empowering and anti-Simp message for men. How on earth is that a woke message? If anything, it's a mockery of WOKE and a mockery of being a SIMP. Go see Barbie. Enjoy it! You will LOVE IT. It's hilarious.  – Laura Loomer
Tom is right about Barbie and accurately explains the motte-and-bailey strategy liberals are using to defend it – Jack Posobiec (See clip below)
LETS ARGUE ABOUT BARBIE… pic.twitter.com/uziUBGkEeP

— Tom MacDonald (@IAMTOMMACDONALD) July 22, 2023
The Barbie movie literally has Ken try to bring the Patriarchy (explicitly called the Patriarchy) to Barbieland & amend the Barbieland Constitution to remove Barbies from positions of power. The lengths the studio went to hide how INSUFFERABLY WOKE this movie is are astounding. – Lauren Chen
Here is Ken singing about 'blonde fragility' in the insanely woke new Barbie

This is possibly the most anti-male film ever madpic.twitter.com/7Lr98Cy4h0

— Jack Poso 🇺🇸 (@JackPosobiec) July 21, 2023
My producers dragged me to see 'Barbie' and it was one of the most woke movies I have ever seen. My full review of this flaming garbage heap of a film will be out on my YouTube channel tomorrow at 10am ET. – Ben Shapiro
WARNING TO PARENTS: Barbie Movie Is Woke Propaganda – Doll-Smashing, Woman-Bashing, Anti-Mother, Pro-Trans Filth Aimed at Little Girls— MUST SHARE‼️ pic.twitter.com/klqyJnCi3J

— A Man Of Memes (@RickyDoggin) July 22, 2023
A Barbie Boycott: Matt Gaetz's Wife Ginger Calls For Audiences To Skip Barbie As It's Woke Elements Come To Light –Dinesh D'Souza – DC Enquirer linked
To protest the Barbie movie, Ben Shapiro lights Barbie & Ken dolls on fire." pic.twitter.com/R6Wc5BkwM6

— Ron Filipkowski (@RonFilipkowski) July 22, 2023
KEY RACE ALERT: CNN has called Mississippi for Barbie and New Mexico for Oppenheimer. Crucial battlegrounds of Wisconsin and Michigan too early to call.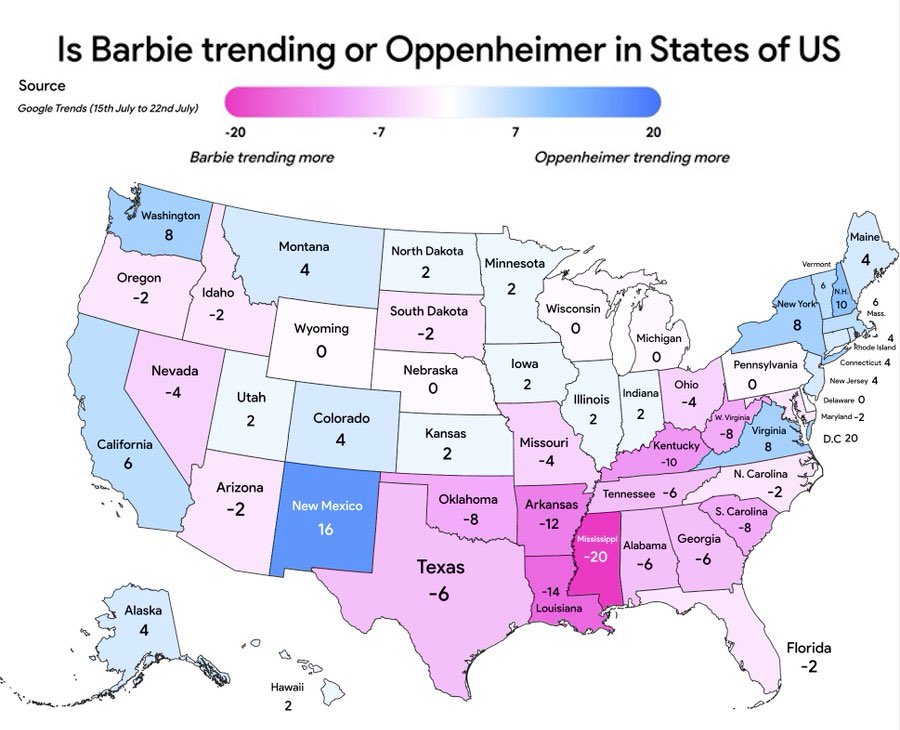 Comments – Threads – Links