People are dying all over the world from the Covid Vaccine. Don't become another statistic (see the bottom of this article and share this with anyone who was tricked or took the vaccine on their own.)
Our miserably failed and corrupt response to the COVID-19 pandemic needs to be fully investigated and the truth exposed.

Three years after this hearing, federal health agencies continue their cover-up. pic.twitter.com/RGGKhTmLsF

— Senator Ron Johnson (@SenRonJohnson) November 21, 2023
A recent investigation sheds light on prevalent chronic symptoms observed in individuals who developed health issues after receiving a COVID-19 vaccine. Published on November 10 as a preprint, the study, led by Dr. Harlan Krumholz of the Yale School of Medicine's Department of Internal Medicine and Yilun Wu of the Yale School of Public Health's Department of Biostatistics, highlights key findings regarding these lingering symptoms.
The research, funded in part by the U.S. National Institutes of Health (NIH), delves into symptoms such as exercise intolerance, excessive fatigue, numbness, brain fog, and neuropathy, which were reported by a significant number of participants. Insomnia, palpitations, myalgia, tinnitus, headache, burning sensations, and dizziness were also prevalent, affecting at least half of the study's participants.
The study, conducted under the Listen to Immune, Symptom, and Treatment Experiences Now (LISTEN) research initiative at Yale, focused specifically on individuals reporting severe, debilitating chronic conditions emerging soon after COVID-19 vaccination. The research team emphasized that these conditions persisted for a year or more in many cases.
To gather data, researchers began recruiting participants in May 2022, and the study included adults reporting post-vaccination problems from May 2022 through July 2023. Notably, those with post-COVID lingering symptoms and incomplete survey responses were excluded from the analysis. The median age of the 388 participants was 46, with 80 percent being female, and 88 percent residing in the United States.
New meta-analysis of 40 high-quality studies:

COVID death rate in 2020 for people younger than 70 was 0.07%.

1-in-1500.

We locked down for that?

We created massive learning loss in children for that?

We forced everyone to take a novel mRNA vaccine, that didn't stop… pic.twitter.com/GkEnle6q8A

— Kevin Bass PhD MS (@kevinnbass) November 20, 2023
While the study design does not establish causality, the researchers acknowledged the potential link between chronic symptoms and the COVID-19 vaccines. The onset of symptoms for many participants occurred shortly after vaccination, with a median time of three days. Seventy-seven percent of individuals experienced symptoms after their first or second vaccine dose.
The study also explored the psychological impact of these persistent symptoms, revealing that 93 percent of participants felt unease in the week before completing the survey. Feelings of fear, being overwhelmed, helplessness, depression, hopelessness, and worthlessness were commonly reported. Additionally, 91 percent of participants reported sleep problems.
And of those numbers, as small as they are, how many deaths were actually covid ?

I have a rough idea, I don't think we'll ever 'know' 🤔 pic.twitter.com/EAxreLaXBx

— ET the Alien Ape (@ETtheAlienApe) November 20, 2023
The symptoms reported were not limited to physical discomfort; participants detailed a median symptom severity rating of 80 out of 100 on their worst days. The study identified a range of new diagnoses post-vaccination, including anxiety, neurological conditions, gastrointestinal issues, and postural orthostatic tachycardia syndrome.
Nearly half of the participants had allergies before the pandemic, and three-quarters had at least one comorbidity, such as gastrointestinal issues, anxiety disorders, depressive disorders, asthma, arthritis, high cholesterol, hypertension, or migraines.
Participants tried various treatments to alleviate their symptoms. Probiotics were commonly used, along with vitamins B12, C, and D, and ibuprofen. Anti-inflammatory drugs, including oral steroids like dexamethasone, were utilized by many. Lifestyle changes were also widespread, including exercise limitations, adjustments to alcohol or caffeine intake, and alterations in salt consumption.
The study underscores the complexity of persistent symptoms following COVID-19 vaccination, providing valuable insights that warrant further investigation and consideration by the medical community. As the research awaits peer review, it contributes to the ongoing discourse on vaccine-related adverse events and their potential long-term effects.
ALERT!!! 
Dr. McCullough's company – a Whatfinger Sponsor.  For those of you who do not know – Nearly EVERYONE who took the vaccine now has an abnormal heart – NO BS – Here's how – Dr. McCullough – fast 2 min clip
Be prepared for anything, including lockdowns with your own Emergency Med kit – see Wellness Emergency Kit (includes Ivermectin and other essential drugs – get approved over the phone – Dr. McCullough's company!) 🛑
Major Points Discussed:
A recent study led by Yale researchers investigated chronic symptoms in individuals experiencing health issues after COVID-19 vaccination.
Common symptoms included exercise intolerance, excessive fatigue, numbness, brain fog, and neuropathy, with additional issues like insomnia, palpitations, myalgia, tinnitus, headache, burning sensations, and dizziness affecting at least half of participants.
The study, funded in part by the U.S. NIH, focused on those reporting severe chronic conditions after vaccination, persisting for a year or more.
Psychological impact was notable, with 93% feeling unease, and widespread reports of fear, being overwhelmed, helplessness, depression, and sleep problems.
Lifestyle changes and various treatments were attempted by participants, such as probiotics, vitamins, anti-inflammatory drugs, and oral steroids, emphasizing the multifaceted nature of these persistent symptoms.
Comments – Threads – Links
Dr. Biss's testimony confirms what many women already suspected – the rushed

COVID

-19 vaccine policies ignored their health. It's time medical freedom and informed consent are restored in America. No more dismissing real concerns about women's health. –  See clip below…  MTG (Marjorie Taylor Greene)
Dr. Biss's testimony confirms what many women already suspected – the rushed COVID-19 vaccine policies ignored their health.

It's time medical freedom and informed consent are restored in America. No more dismissing real concerns about women's health. pic.twitter.com/x5Hx7cuTiT

— Rep. Marjorie Taylor Greene🇺🇸 (@RepMTG) November 20, 2023
BREAKING:

Health Canada FOIA request shows the

COVID

vaccine

killed a lot more people than Health C

anada would ever like to admit. 2,140

pages of death reports (each report spans mult

iple pages). Decide for your

self who is telling the truth. – Steve Kirsch

Pfizer is Finally Sued Over

Covid

Vaccine Fraud-Becker News- Texas Attorney General Ken Paxton is Suing Pfizer for Defrauding Public on Covid Vaccines
Don't vaccinate your children with covid-vaccines! Ever! | Voice for Science and Solidarity – Dr. David Cartland

Moderna employs former FBI agents who monitor any attacks on its

covid

shots & demands big tech companies challenge & remove content critical of its

covid

shot. Good read here. Hi, Moderna, your shots are crap & your company should be bankrupted for fraud. – Unherd

The

Covid

shots were a disaster. People quietly know these shots didn't work and they are unsafe". – Dr. McCullough – clip at Twitter 54 secs
Sen. Rand Paul Introduces Bill to Outlaw Government Censorship of Constitutionally-Protected Speech "Me telling you that masks don't work or that your child doesn't need a vaccine for COVID. That is my opinion, based on the way I've seen the science. But that is constitutionally protected, and in no way should the FBI or Department of Homeland Security or some outsourced project to Stanford … be allowed to coerce them [social media companies] to take down my speech." – Vigilant Fox – clip – see below
Sen. Rand Paul Introduces Bill to Outlaw Government Censorship of Constitutionally-Protected Speech

"Me telling you that masks don't work or that your child doesn't need a vaccine for COVID. That is my opinion, based on the way I've seen the science. But that is constitutionally… pic.twitter.com/U48kKn8I2h

— The Vigilant Fox 🦊 (@VigilantFox) November 20, 2023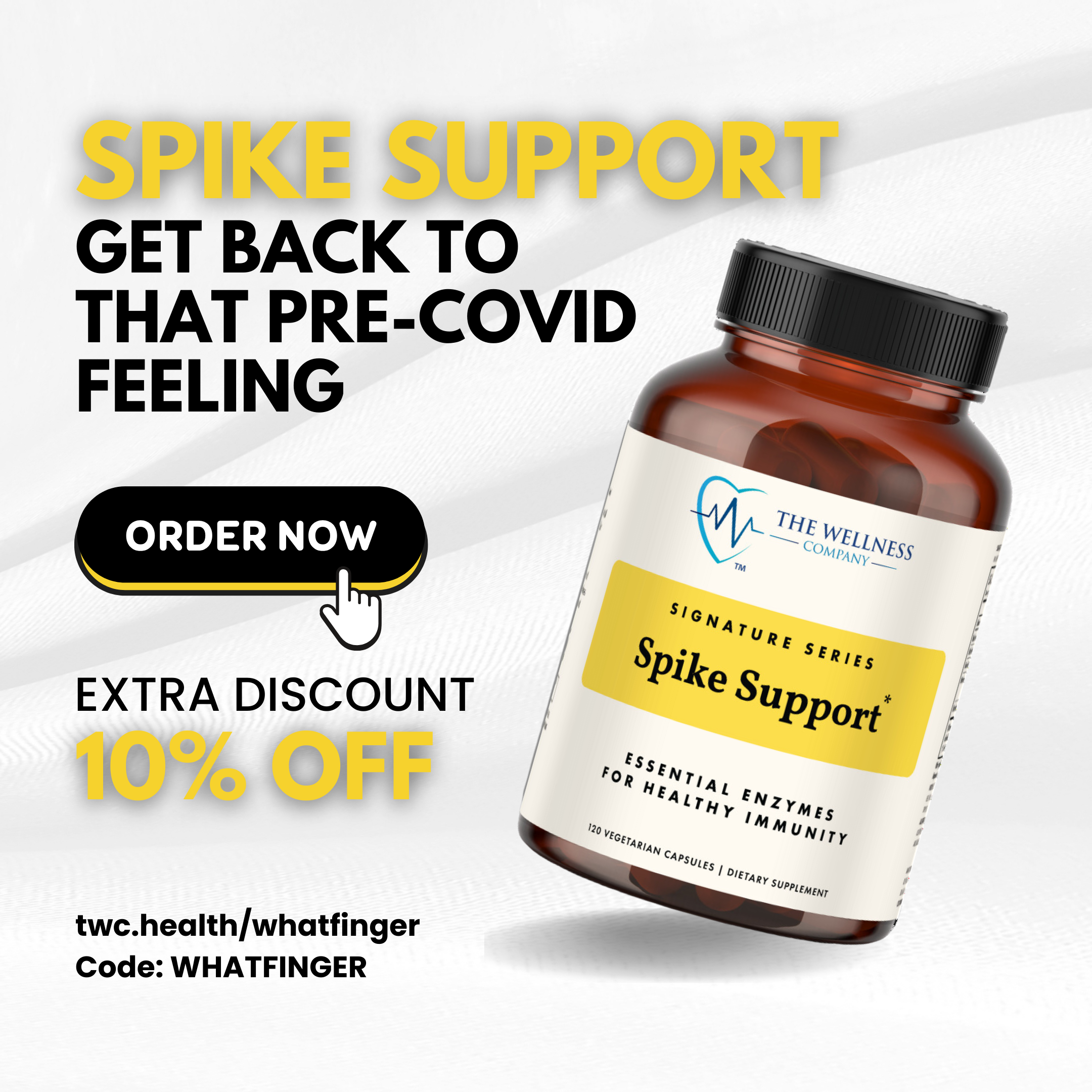 Biden and crew are doing everything possible to take the nation down. Nations and banks around the world are buying Gold fast and at record amounts.  Do yourself or your family a favor, check out GOLD now – Whatfinger endorses Goldco, which has helped people all over America to protect their 401Ks and retirement – get the free details –  CLICK HERE or below…