In what has been dubbed as "the greatest opening statement ever," GOP presidential hopeful Vivek Ramaswamy made a bold entrance into the third primary debate, leaving no room for niceties. The tech mogul, unapologetically, began his address by calling for the resignation of Republican National Committee Chairwoman Ronna McDaniel in the wake of a disastrous Tuesday night election.
Ronna should resign.

The MSM should admit the Russia collusion hoax was a lie & the Hunter laptop was real.

I called out establishment RNC & the corrupt media. They don't want you to hear it. Fight back: https://t.co/MJObBHNneK pic.twitter.com/kmspqJnhLw

— Vivek Ramaswamy (@VivekGRamaswamy) November 9, 2023
Expressing his discontent with the state of the Republican Party, Ramaswamy declared, "There's something deeper going on in the Republican Party here, and I am upset about what happened last night. We've become a party of losers." He pinpointed a perceived cancer within the Republican establishment, attributing the party's losses in 2018, 2020, and 2022 to McDaniel's leadership.
JUST IN: Vivek Ramaswamy doubles down on his criticism of Nikki Haley, says she is "Hillary Clinton on steroids" as he goes into greater detail on how she got loaded off politics.

🔥🔥🔥

Ramaswamy revealed how Haley is allegedly collecting corporate stock options while running… pic.twitter.com/aorJuETh3v

— Collin Rugg (@CollinRugg) November 10, 2023
Without holding back, Ramaswamy challenged McDaniel directly, stating, "For that matter, Ronna, if you want to come up on stage tonight, you want to look the GOP voters in the eye and tell them you resign… I will turn over my time to you."
Shifting his focus to the debate's moderators, who hail from NBC, Ramaswamy advocated for a change in the lineup. He suggested that GOP debates should be moderated by figures like Tucker Carlson, Joe Rogan, and Elon Musk, asserting that such a panel would attract significantly more viewers and address questions that genuinely concern GOP primary voters.
I'm sick and tired of this Republican Establishment that has made us a party of losers. Where is the accountability for years of losing: 2018, 2020, 2022 and now 2023? I'm calling on @GOPChairwoman to resign. pic.twitter.com/atrlDNxu0N

— Vivek Ramaswamy (@VivekGRamaswamy) November 10, 2023
Taking a swipe at the alleged bias of NBC hosts, Ramaswamy questioned their objectivity, specifically addressing moderator Kristen. He raised the issue of the Trump collusion hoax that was pushed on the network for years and asked whether it was genuine or fabricated by Hillary Clinton. Seeking accountability, he accused the media of rigging the 2016 and 2020 elections and warned of potential interference in the upcoming one.  Continued below…
Continuing his bold stance, Ramaswamy shifted his attention to the neocons, criticizing warmongers and delivering a sharp rebuke to Nikki Haley and DeSantis. He presented a choice to the audience: a leader from a different generation prioritizing the country or someone akin to "Dick Cheney in 3-inch heels."
VIVEK: The only America-first candidate on stage last night

With 250,000 migrants crossing in September, Vivek Ramaswamy decided to go assess the situation himself

Here are his common sense solutions to this crisis & why it's important that we prioritize securing our border 🔥 pic.twitter.com/RFNByaMlrZ

— BPR (@BIZPACReview) November 10, 2023
The fervor of Ramaswamy's opening statement raises the question: did he just out-Trump Trump? His unabashed call for accountability, critique of media bias, and challenge to the party's leadership mirrors the confrontational style that became synonymous with the former president. Whether this approach resonates with voters remains to be seen, but Ramaswamy has undeniably set the stage for a debate that promises to be anything but conventional.   Continued below Goldco
Biden and crew are doing everything possible to take the nation down. Nations and banks around the world are buying Gold fast and at record amounts.  Do yourself or your family a favor, check out GOLD now – Whatfinger endorses Goldco, which has helped people all over America to protect their 401Ks and retirement – get the free details –  CLICK HERE or below…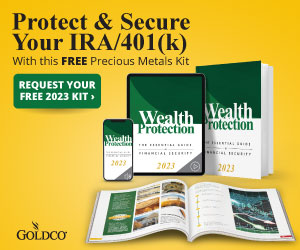 Major Points And Ideas:
Vivek Ramaswamy, GOP candidate, delivered a powerful opening statement at the third primary debate.
He called for the resignation of RNC Chairwoman Ronna McDaniel, attributing recent election losses to her leadership.
Ramaswamy advocated for a change in debate moderators, suggesting figures like Tucker Carlson, Joe Rogan, and Elon Musk for higher viewership and relevant questions.
He questioned NBC hosts' bias, particularly addressing moderator Kristen regarding the Trump collusion hoax and emphasizing the need for media accountability.
Ramaswamy criticized neocons, singling out Nikki Haley and DeSantis, and presented a choice between a leader prioritizing the country and someone resembling "Dick Cheney in 3-inch heels."
James Kravitz – Freelance Writer – Whatfinger News
Comments – Threads