The Deep State and their minions are working on overdrive to solidify their control over nations all over the world. 
The wheels of another election cycle are in motion in the United States, bringing with them a renewed focus on the role played by influential social platforms and tech companies. The scrutiny on these entities, often conducted behind the scenes, is particularly notable given the influence they wield, as underscored by revelations from the Twitter Files.
In this context, recent announcements from major tech players regarding their efforts to combat "election disinformation" merit careful consideration. One such company making headlines is Microsoft, which claims to be taking "new steps to protect elections." Importantly, Microsoft frames its commitment to election integrity as a global concern, extending beyond the borders of the United States.  Continued below Covid ad…
Be prepared for anything, including lockdowns with your own Emergency Med kit – see Wellness Emergency Kit (includes Ivermectin and other essential drugs – get approved over the phone – Dr. McCullough's company!) 🛑
According to a blog post co-authored by Microsoft Vice Chair and President Brad Smith, elections around the world, from the European Union to India, are under threat. The threat, as described by Smith, does not primarily emanate from Big Tech but rather from "multiple authoritarian nation states." Microsoft's response comes in the form of its "Election Protection Commitments," a 5-step plan designed to counter these external influences, to be implemented not only in the U.S. but also in other regions with "critical" elections.
Collusion? This Group, in Partnership With Government, Targeted Conservative Speech in 2020 "…the Election Integrity Partnership, while not itself a government agency…regularly coordinated with federal government officials."  Larry Elder
The details surrounding why certain elections are deemed more critical than others and what Microsoft specifically seeks to protect remain somewhat unclear. However, one of the proposed measures is the Content Credentials digital metadata scheme, reminiscent of meme stamp watermarking. The scheme aims to provide transparency to political campaigns by revealing how, when, and by whom content was created or edited, including instances where artificial intelligence (AI) generated the content. Notably, the effectiveness of this approach may be questioned given that the widely used Chrome browser is not part of the group (C2PA) endorsing Content Credentials.  Continued below this vid on Election integrity
3 Experts from data integrity group provide proof of fraud in Georgia's election receiving 75% or more votes for one candidate in a precinct is abnormal using 3 separate data sources:
◦Edison
◦Scytl
◦Secretary of State

This results is purely scientific and objectively… pic.twitter.com/8wIaugUrKe

— ꪻꫝể ꪻꫝể (@TheThe1776) November 12, 2023
Meta, the parent company of Facebook, has also entered the arena with its own initiative to combat manipulated content, especially deepfakes. Deepfakes involve the manipulation of videos to merge, combine, replace, or superimpose content, creating a deceptive appearance. Meta's efforts include a commitment to review media for fake content that may slip through the company's new disclosure requirements. To carry out this review, Meta plans to rely on "independent fact-checking partners."
Despite these endeavors by major tech players, challenges remain. Clear and concise definitions of altered content, such as deepfakes, are often elusive. The reliance on "independent fact-checking partners" introduces questions about accountability and potential biases in the evaluation process.
As the election landscape continues to evolve, the interplay between tech giants and the democratic process will likely be a focal point. Striking the right balance between safeguarding election integrity and avoiding undue influence by tech companies poses an ongoing challenge that demands careful consideration and robust oversight.
Why the Courts Are Failing to Stop Gov't Censorship

"The federal gov't, disinformation 'experts' at universities, Big Tech & others worked together through the Election Integrity Partnership to monitor & censor Americans' speech,' (@Jim_Jordan) wrote."https://t.co/Lf0zxFFKuP

— Larry Elder (@larryelder) November 13, 2023
Major Points Discussed:
Another US election cycle is underway, prompting increased scrutiny of the role played by influential social platforms and tech companies.
Microsoft announces "new steps to protect elections" globally, framing election integrity as a concern extending beyond the US.
Microsoft's "Election Protection Commitments," a 5-step plan, targets external influences from "multiple authoritarian nation states" in critical elections worldwide.
Proposed measures include Content Credentials digital metadata scheme for transparency in political campaigns, but effectiveness is questioned due to non-participation of Chrome browser.
Meta (Facebook) introduces efforts to combat altered content like deepfakes, relying on "independent fact-checking partners" to review media for fake content that may slip through disclosure requirements.
BOMBSHELL: Congressional report outlines structure of 'censorship industrial complex'

The House Judiciary Committee released a damning report a week ago proving what we have known all along: that government forces sought to silence and deplatform voices on the right during the… pic.twitter.com/yckb0CB99l

— James O'Keefe (@JamesOKeefeIII) November 15, 2023
Comments – Threads – Links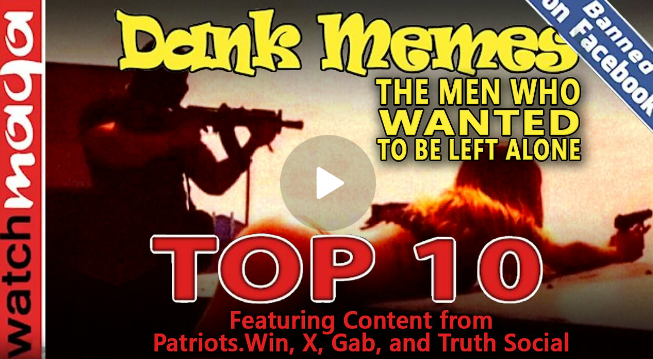 Biden and crew are doing everything possible to take the nation down. Nations and banks around the world are buying Gold fast and at record amounts.  Do yourself or your family a favor, check out GOLD now – Whatfinger endorses Goldco, which has helped people all over America to protect their 401Ks and retirement – get the free details –  CLICK HERE or below…