Are we the bad guys in the Middle East now? Makes you think…. 
On Sunday, the Pentagon executed a third series of airstrikes in eastern Syria, targeting what U.S. Defense Secretary Lloyd Austin referred to as "precision strikes." These strikes aimed at an Iran-linked training facility near Albu Kamal and a site near the city of Mayadeen.
Austin emphasized the President's commitment to the safety of U.S. personnel, stating that the action was directed to make it unequivocal that the United States will defend itself, its personnel, and its interests. This move was framed as a response to a series of attacks on U.S. bases in the region since the initiation of the Gaza war.  Continued below the video clip
The US illegally occupies 1/3 of Syria and openly steals Syrian oil and wheat for export.

The resistance to the US occupation is legitimate, and it will ultimately drive US forces out of Syria.

As soon as the US strikes Resistance targets, these groups hit back even harder. pic.twitter.com/DnKECgxITX

— Seyed Mohammad Marandi (@s_m_marandi) November 13, 2023
The statement on Sunday night provided further details, noting that the targeted facilities were utilized by Iran's Islamic Revolutionary Guard Corps (IRGC) and Iran-affiliated groups, believed to be responsible for the majority of attacks on U.S. installations in Iraq and Syria.
A day prior, U.S. defense officials revealed that U.S. bases had been targeted 48 times since October 17, resulting in 56 American service personnel sustaining minor injuries.
Russian, Israeli and US strikes in Syria. Russia struck anti-Assad forces in Idlib, on the Turkish border, the US struck arms depots allegedly from Iran, Israel fired back against rocket attacks from Syria. People talk about a possible world war, but where is the dividing line? – clip at Twitter
The first significant U.S. airstrikes in eastern Syria occurred on October 27, followed by a second round on November 8. Initially presented as a deterrent against further aggression on U.S. troops, these airstrikes have not succeeded, as missile and drone attacks have persisted.
U.S. officials have heightened their rhetoric against Tehran, asserting that Iran will ultimately be held responsible. However, Iranian officials have denied involvement in the recent attacks.
In response to last week's strikes, a Pentagon press secretary announced the destruction of an "IRGC-linked weapons storage facility." This action was taken following rocket and suicide drone attacks on U.S. bases, totaling at least two dozen instances in Iraq and over two dozen instances in Syria. Continued below the clip
🇸🇾 At least eight pro-Iran fighters were killed in US strikes on eastern Syria, a war monitor said Monday, after Washington carried out raids a day earlier in response to attacks on American forces.

Our International Affairs Editor, Philip Turle, explains the situation 👇 pic.twitter.com/FcxeR3Ijmm

— FRANCE 24 English (@France24_en) November 13, 2023
Deputy press secretary Sabrina Singh declared, "If these attacks continue against our personnel, we won't hesitate at a time and place of our choosing to respond again." Defense officials emphasized that the injuries to over 50 U.S. troops were mostly minor, and all have returned to duty.
The U.S. has maintained a presence of 1,000 or more troops and personnel in Syria for years. Initially framed as a "counter ISIS" mission, the U.S. mission has evolved into an oil and gas resource pursuit, with an ultimate focus on regime change in Damascus through sanctions and energy redirection. Concerns are rising that U.S. troops may become entangled in a broader conflict related to Israel's operations in Gaza and against Hezbollah in southern Lebanon.
Major Points Discussed…
Pentagon conducted a third round of airstrikes in eastern Syria, targeting Iran-linked facilities near Albu Kamal and Mayadeen.
U.S. Defense Secretary Lloyd Austin emphasized the President's commitment to the safety of U.S. personnel, framing the action as retaliation for attacks on U.S. bases since the Gaza war.
Targeted facilities were associated with Iran's Islamic Revolutionary Guard Corps (IRGC) and Iran-affiliated groups responsible for attacks in Iraq and Syria.
U.S. bases were targeted 48 times since October 17, resulting in 56 minor injuries to American service personnel.
Despite initial attempts to deter aggression, missile and drone attacks on U.S. troops persisted; concerns rise over broader conflict involvement related to Israel's Gaza operations and Hezbollah in southern Lebanon.  Continued below the Goldco Ad
Biden and crew are doing everything possible to take the nation down. Nations and banks around the world are buying Gold fast and at record amounts.  Do yourself or your family a favor, check out GOLD now – Whatfinger endorses Goldco, which has helped people all over America to protect their 401Ks and retirement – get the free details –  CLICK HERE or below…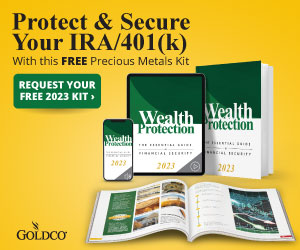 Comments – Threads – Links
Be prepared for anything, including lockdowns with your own Emergency Med kit – see Wellness Emergency Kit (includes Ivermectin and other essential drugs – get approved over the phone – Dr. McCullough's company!) 🛑