We all know the games that are now played with elections.
The following article makes an assumption that people are voting for Democrats… when we know what is happening to our electoral system and American freedom… We added various recent clips showing the MASSIVE voter fraud now employed to destroy American freedom and the integrity of our elections all over the nation – Mal
ALERT: A federal court in Northern District of Georgia (Atlanta Division) will allow plaintiffs to proceed to trial after they presented expert evidence which found 7 core vulnerabilities in the Dominion voting system – Tom Fitton – Judicial Watch (full quote is below this article, and much more)
---
After three years of Joe Biden's presidency and after having suffered the highest inflation in 40 years, you would think that Americans would be tired of having Democrats in power. But as this week's elections demonstrated, that doesn't seem to be the case.
Only a handful of states held elections this year, including Kentucky, Ohio, Virginia, and Pennsylvania. But in all of them support for Democrats seems to be strengthening, an ominous indicator for 2024. Whether that's due to actual support for Democratic policies, or Republican voters sitting out elections this year is perhaps debatable.
But if this trend holds for the 2024 general election, it could impact government policies for years to come. And if you thought things were bad now, they could get even worse.
Why Are Democrats Gaining?
There are a number of reasons Democrats could be gaining support, but here are three things to keep in mind when it comes to projecting what will happen in elections.
Both sides come out in this, partially with Ted Cruz…. and that same tired lie about 60 courts, and 2020 being a fair election
Ted Cruz & Bill Maher talk election fraud

Good job @tedcruz 🇺🇸 pic.twitter.com/QLEKzhOiRQ

— miguelifornia (@miguelifornia) November 11, 2023
1. Voters Don't Always Vote Economic Self Interest
The first thing to realize is that voters don't always vote in their economic self interest. Even if Democrats have a reputation as free spenders, voters may very well place more emphasis on other issues.
During this election cycle, abortion was a big issue and drove many Democrats to the polls. Many Republican voters may also have sat this election out, whether due to jaded belief that all elections are rigged or for some other reasons.
Hot button issues like abortion will get people to vote for candidates who aren't necessarily going to benefit them on issues of economics and finance. And that's because…
Fulton County, Georgia Election Fraud

150,000 Pristine Ballots with absolutely no folds, marked with toner ink, on different paper & all for Joe Biden come up missing. 150,000 2020 Election Ballots destroyed just before they were ordered to be turned over for investigation. pic.twitter.com/CKF4r4sh6a

— Wall Street Apes (@WallStreetApes) November 14, 2023
2. Voters Focus on the Short Term
Many voters focus on the short term. And by short term, that doesn't mean a matter of months or even weeks, but possibly just days.
Remember the 2008 bank bailouts? Voters were enraged at the federal government bailing out the banking sector to the tune of $700 billion, a sum that at the time was astronomically large.
Yet despite the fact that the bailout was signed into law only about a month before the 2008 elections, those who voted in favor of the bailouts didn't suffer any negative fallout. All that voter anger in late September and early October didn't translate into anything at the polls.
In fact, despite the bailout being passed by a Democratic-controlled Congress, voters handed Democrats an even larger majority in the next Congress. There was so much vitriol against George W. Bush that the blue wave that swept Obama into office benefited the very same Democratic Congressmen who passed those bailouts.
Of the nineteen total incumbents who lost their elections that year (Democrats and Republicans), only five of them had voted in favor of the bailouts. So despite voters having been absolutely infuriated at their tax dollars going to bail out Wall Street, voters actually disproportionately punished the Congressmen who sided with them. And that's because…
3. Voters Fail to See Cause and Effect
Most people are unable to put together cause and effect, and not just second and third order effects either. Direct cause and effect might as well be Greek to most people.
In the case of the bailouts, voters were upset at the Bush administration, rather than the Democratic Congress that introduced and advanced the legislation, and thus rewarded the people who introduced that legislation.
Those of you living in Georgia, Tennessee, Texas, Florida, and other states seeing influxes of new residents coming from California, New York, Illinois, and New Jersey have probably witnessed something like this.
Be prepared for anything, including lockdowns with your own Emergency Med kit – see Wellness Emergency Kit (includes Ivermectin and other essential drugs – get approved over the phone – Dr. McCullough's company!) 🛑
The new transplants express discontent with the high taxes, high prices, and high cost of living of where they came from, which is why they look for places with lower taxes and a better quality of life. But then they start to want their new state to do things the same way things were done "back home," and so they vote for the same people and policies that ruined their home state.
In this way, states that were once solidly red start turning purple and then blue. And the voters who cause this never learn from their mistakes.
One man, one vote, went out the window at State Farm Arena the night of Nov 3, 2020.

Ballots scanned over & over again, no witnesses, just a camera they thought was turned off.

Donald Trump was arrested for challenging this.

The margin in GA was less than 12k

Election FRAUD. pic.twitter.com/yKMShaEc2n

— suzy (@Suzy_1776) November 13, 2023
The Lesson to Be Learned
The takeaway from all of this is that if you're expecting a red wave to materialize in 2024 and sweep fiscal conservatives into power, you shouldn't hold your breath. Knowing what happened in elections in 2008 and more recently, don't be surprised if Democrats win not only the White House but also take back control of Congress.
So if you hoped that 2024 would lead to a restoration of fiscal sanity, lower taxes, and an economy no longer weighed down by excessive federal spending, keep hoping. Even if Joe Biden came out today to announce that he's doubling taxes, that might not even be enough to sway voters in 2024.  Continued below the clip
An overturned primary election due to election fraud.

That's what just took place in Connecticut after a judge deemed the evidence so unmistakable that he called for the results to be thrown out and the election redone. pic.twitter.com/5HyMPn6tYC

— EpochTV (@EpochTV) November 14, 2023
For every voter going to the polls hoping for policies that will improve their 401(k)s, there are more going to the polls hoping for more student loan forgiveness, more welfare benefits, and other government handouts. The prospect of government freebies is alluring to many, more alluring in many cases than the prospect of freer markets and economic prosperity.
With all that in mind, this means that the outlook post-2024 could remain bleak. The federal government will continue to spend money like it's going out of style, tax rates likely will reset after 2025 with no extension of the Trump tax cuts, and markets likely won't see anything positive coming out of Washington.
That's why it's important to take steps to prepare yourself against a worst case scenario. With recession growing ever more likely, a negative electoral outcome could only add fuel to the fire. If you haven't thought about protecting your assets already, when will you?
Many Americans have already started to protect their wealth by buying precious metals like gold and silver. Gold and silver were breakout performers in the aftermath of the 2008 financial crisis, and if they perform as well during the next recession as they did then, precious metals owners will be very happy.
But the time to start protecting yourself is before a recession occurs, before you start losing money. Whether you're looking to protect tax-advantaged retirement savings with a gold IRA or just looking to buy some gold and silver coins to store at home
Source: Goldco.com   See ad below
Biden and crew are doing everything possible to take the nation down. Nations and banks around the world are buying Gold fast and at record amounts.  Do yourself or your family a favor, check out GOLD now – Whatfinger endorses Goldco, which has helped people all over America to protect their 401Ks and retirement – get the free details –  CLICK HERE or below…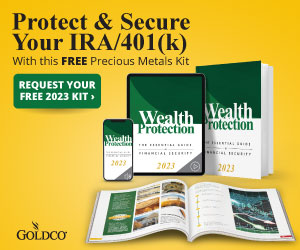 Comments – Threads – Links
ALERT: A federal court in Northern District of Georgia (Atlanta Division) will allow plaintiffs to proceed to trial after they presented expert evidence which found 7 core vulnerabilities in the Dominion voting system: "1. Attackers can alter the QR codes on printed ballots to modify voters' selections; 2. Anyone with brief physical access to the BMD (ballot marking device) machines can install malware onto the machines; 3. Attackers can forge or manipulate the smart cards that a BMD uses to authenticate technicians, poll workers, and voters, which could then be used by anyone with physical access to the machines to install malware onto the BMDs; 4. Attackers can execute arbitrary code with supervisory privileges and then exploit it to spread malware to all BMDs across a county or state; 5. Attackers can alter the BMD's audit logs; 6. Attackers with brief access to a single BMD or a single Poll Worker Card and PIN can obtain the county-wide cryptographic keys, which are used for authentication and to protect election results on scanner memory cards; and 7. A dishonest election worker with just brief access to the ICP scanner's memory card could determine how individual voters voted." The main conclusions of the expert analysis of the Georgia computerized Dominion voting systems, as described by the Court: "• The ICX BMDs [Dominion's ballot marking devices] are not sufficiently secured against technical compromise to withstand vote-altering attacks by bad actors who are likely to attack future elections in Georgia. . . • The ICX BMDs can be compromised to the same extent and as or more easily than the AccuVote TS and TS-X DREs they replaced. . . . • Despite the addition of a paper trail, ICX malware can still change individual votes and most election outcomes without detection . . . Although outcome-changing fraud conducted in this manner could be detected by a risk-limiting audit, Georgia requires a risk-limiting audit of only one contest every two years,27 so the vast majority of elections and contests have no such assurance. And even the most robust risk-limiting audit can only assess an election outcome; it cannot evaluate whether individual votes counted as intended. . . . • The ICX's vulnerabilities also make it possible for an attacker to compromise the auditability of the ballots, by altering both the QR codes and the human readable text. Such cheating could not be detected by an [risk-limiting audit] or a hand count, since all records of the voter's intent would be wrong. . . . • Using vulnerable ICX BMDs for all in-person voters, as Georgia does, greatly magnifies the security risks compared to jurisdictions that use hand-marked paper ballots but provide BMDs to voter upon request. . . . • The critical vulnerabilities in the ICX — and the wide variety of lesser but still serious security issues — indicate that it was developed without sufficient attention to security during design, software engineering, and testing. . . . [I]t would be extremely difficult to retrofit security into a system that was not initially produced with such a process." What can the court do if the plaintiffs succeed in trial? "Plaintiffs carry a heavy burden to establish a constitutional violation connected to Georgia's BMD electronic voting system, whether in the manner in which the State Defendants have implemented the voting system — i.e., that it imposes serious security voting risks and burdens impacting Plaintiffs' voting rights — or otherwise. If Plaintiffs prevail at trial on one or more of their claims, there are pragmatic, sound remedial policy measures that could be ordered or agreed upon by the parties, such as (1) providing for the use of printed ballots for vote counting without the use of QR codes, (2) administering a broader scope and number of election audits to address vote count accuracy and other related issues, and (3) implementing other essential cybersecurity measures and policies recommended by the nation's leading cybersecurity experts and firms, including the Department of Homeland Security's CISA."  – Tom Fitton – Judicial Watch
Will Dominion refund the winnings of lawsuits where they sued news companies and individuals for making the claim the machines weren't secure? – Greer Stands for Freedom
If Trump does not win this election we will fall to communism. My greatest fear is that we will not be able to overcome the obvious election fraud. How do we beat them when they have seized power?!? I have no idea if our country will survive this 2020 coup. They have the FBI and DOJ imprisoning us. It is getting worse every day. 2024 is going to be even worse. – Gretchen Smith

My legal team has filed for our appeal to be reviewed by the Arizona Supreme Court. This isn't about me. This is about restoring the faith of the people of Arizona in their elections moving forward. 2024 is just around the corner. @MaricopaVote

must answer for their blatant disregard for election law & procedure before we can entrust them with our sacred vote. – Kari Lake
United States 2020 Election Fraud Proof From The Supreme Court Of Italy. Prof. Alfio D'Urso – Legal Counsel / Supreme Court of the Italian Tax Court "Do herby provide the following affidavit of facts as conveyed in several meetings with the high-level Army Security Services official. Arturo D'Elia, former head of the IT department of Leonardo Espia, has been charged by the public prosecutor of Naples for technology data manipulation and implantation of viruses in the main computers of Leonardo Spa in December 2020. Under instruction and direction of U.S. persons working from the U.S. Embassy in Rome, undertook the operation to switch data from the U.S. election of 3rd, November 2020 from significant margin of victory from Donald Trump to Joe Biden in a number of states where Joe Biden was losing the vote totals. The defendant states that he was working in Pescara facility of Leonardo Spa and utilized military-grade cyber warfare encryption capabilities to transmit switched votes via military satellites of Fusino Tower to Frankfurt, Germany. The defendant swears that the data in some cases may have been switched to represent more than total voters registered. The defendant states he is willing to testify to all individuals and entities involved in the switching of votes from Donald Trump to Joe Biden, when he shall be in total protection from himself and his family. Defendant states he is secured in an undisclosed location, the backup of the original data and data switched upon instruction to provide evidence at court in this matter. I hereby declare and swear the above state's facts have been stated in my presence. Dated 16 November 2021 at Rome, Italy." – Wall Street Apes  See vid clip below
United States 2020 Election Fraud Proof From The Supreme Court Of Italy. Prof. Alfio D'Urso – Legal Counsel / Supreme Court of the Italian Tax Court

"Do herby provide the following affidavit of facts as conveyed in several meetings with the high-level Army Security Services… pic.twitter.com/zCRkISBR2B

— Wall Street Apes (@WallStreetApes) November 14, 2023