This is shaping up to be the most dramatic housing crash we have ever seen. Mortgage rates haven't been this high in over 23 years. Meanwhile, in October, sales dropped to the lowest level since the Great Recession. Now, the number of home listings is rapidly rising, and sellers are having to slash their prices to be able to strike a deal.  Continued below the video 
The market already hit a turning point, and new data suggests that it's all downhill from here. Real estate agents, homebuilders, and mortgage lenders are getting increasingly pessimistic about the future of the market. Americans are extremely worried about losing equity in their homes or losing their homes altogether. When home sales rapidly fall after growing consistently year-over-year, it could serve as a warning sign of a housing market crash. That's because declines in sales volumes can affect home appreciation, and when enough sellers are unable to find a buyer for their homes, they will have to lower the price to attract more buyers. In the third quarter, home sales plunged by 15.1%, meaning that the number of existing homes sold fell to levels not seen since the fallout of the Great Recession.  Continued below the Goldco Ad
Biden and crew are doing everything possible to take the nation down. Nations and banks around the world are buying Gold fast and at record amounts.  Do yourself or your family a favor, check out GOLD now – Whatfinger endorses Goldco, which has helped people all over America to protect their 401Ks and retirement – get the free details –  CLICK HERE or below…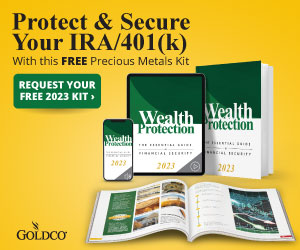 With mortgage rates nearing 8%, the majority of would-be buyers are currently priced out of the market. That is leaving sellers no choice but to significantly reduce their asking prices right now. According to data provided by Zillow and Redfin, a record number of sellers dropped the prices on their listings in the past quarter. In September, the percentage of home listings that had a price cut jumped to 9.2%, and in October, that figure went up by an additional 7%, an "unusually high" month-over-month increase, analysts said. Moreover, the National Association of Homebuilders reported that 32% of homebuilders slashed prices in the past month, with an average drop of 6% nationwide. Meanwhile, housing inventory continues to grow.
The supply of unsold homes in the market is starting to pile up. There are now more than half a million homes unsold active on the market. The latest numbers shared by the National Association of Realtors show that the U.S. housing inventory is almost 6% higher than it was a year ago. If the number of properties on the market is increasing, but the demand is keeping pace, that's a significant indicator that there are more sellers than buyers, and the market is about to face a major shift.  Housing bubbles don't happen out of thin air, and the same is true for housing crashes. There are always early signs that indicate things are starting to get out of hand in the market, and we need to recognize the red flags before the downfall begins so we can safeguard our finances. We hope this video was informative to you and that you prepare accordingly because many factors are expected to impact the economy in the months ahead.   Continued below The Covid Ad
he key to weathering the storm is staying informed about local and national housing trends, and ensuring your financial situation is stable enough to survive the turbulence.  Several stats reveal that another disaster is imminent. So it might be helpful to homeowners and prospective homebuyers to identify the warning signs so that they can be prepared. For that reason, today we share the latest and most shocking facts about the housing downturn that is already unfolding.
Comments – Threads – Links