It's time to prepare yourself for the winter that is coming! In a few short weeks, a seasonal shift in consumer demand will leave some empty shelves at grocery stores, new reports reveal. Weaker-than-expected harvest seasons and other manufacturing challenges have hit the biggest food companies in the country really hard throughout the year. And now, many retailers are already reporting inventory holes at a time when they should be receiving more supplies to prepare for the all-important holiday season.   Continued below the video
For example, Americans might have to go out of their way to find asparagus for their holiday recipes next month. Michigan, California, and New Jersey reported an 11% reduction in the number of asparagus crops planted this year, and farmers also cited losses caused by fungus and beetles during the harvest season. While more people will be looking for the veggie at big-box stores in the weeks ahead, retailers won't likely be able to fulfill the entire demand. At local farmers' markets, prices can be higher this season, but you'll have greater chances of getting what you need for the perfect holiday dinner. Similarly, flour, butter, shortenings, and oils are not only costing more but also becoming more scarce at grocery stores in 2023.  Continued below the Goldco Ad
Biden and crew are doing everything possible to take the nation down. Nations and banks around the world are buying Gold fast and at record amounts.  Do yourself or your family a favor, check out GOLD now – Whatfinger endorses Goldco, which has helped people all over America to protect their 401Ks and retirement – get the free details –  CLICK HERE or below…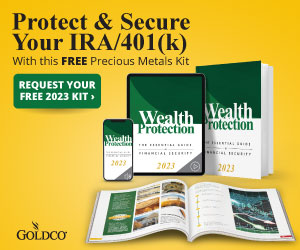 The worldwide shortage of grains has been pushing the production of flour and vegetable oils down since 2022. Meanwhile, dairy products are being impacted by higher cow slaughter this year. And now that seasonal demand for baking supplies is about to grow home and professional bakers might have to fight for the available supply, according to Bloomberg. With holiday celebrations about a month away, many bakers have already started stocking up on the ingredients they'll need. Those who haven't yet should start making preparations now because many products may be sold out over the next couple of weeks.
You also might have heard about the massive decline in U.S. cattle production this year. A historic drought, rising fuel, and feed costs, as well as labor shortages, have all combined to create a perfect storm for the nation's ranchers. Prices are expected to soar, too. According to the USDA, they are likely to double from a year ago levels. The best cuts, including filet mignon and ribeye, will not only face even bigger price increases but also become harder to find, given that this year's beef cows were much smaller than usual, and produced less meat. If you haven't purchased steak for your holiday celebrations yet, don't wait too long because you may struggle to get what you want. Weather emergencies, supply chain disruptions, and an ongoing freight market crisis will exacerbate shortages and prevent retailers from restocking their shelves over the next weeks and months.
Don't wait until the last minute to search for the products you will need because you might end up paying a lot more than you would if you had prepared sooner. The holiday shopping frenzy has only just begun, and we should brace for a whole lot of chaos at U.S. stores next month.In this video, we tracked the new product shortages that are about to hit the U.S. market in December and beyond so you can stay ahead of the shortages and get ready for the dark winter that is ahead of us.
Be prepared for anything, including lockdowns with your own Emergency Med kit – see Wellness Emergency Kit (includes Ivermectin and other essential drugs – get approved over the phone – Dr. McCullough's company!) 🛑