This is the toughest economic environment many famous retailers have ever been in, and recent numbers are proof of that. Retail sales just fell again last month, as inflation continued to hit shoppers' buying power and rising interest rates limited access to credit. Meanwhile, companies are paying more for their merchandise, labor, energy, and transportation while their profit margins continue to shrink and their debt reaches unprecedented levels. Many of them have been struggling way before the current crisis began, and they've been hanging by a very thin thread that may break as economic conditions worsen this year.  Continued below the video
For example, Even after experiencing a major revamp since it filed for bankruptcy in 2020, the apparel retailer hasn't seen a notable improvement in its financial results. After reporting a 9% sales decline in January, Q2 sales fell by an additional 7% as high-priced items pushed away American consumers trying to save. The rise of independent and online brands is making Victoria's Secret products less and less attractive in this highly competitive market. Over 300 stores have been permanently closed in the past three years, and at least another 50 are scheduled to close in 2023. The pricey brand's woes are likely to intensify as consumer spending dries up amid deteriorating economic conditions and limited credit.
Retail experts say that a second bankruptcy may be in the cards for the chain given that profitability issues have further aggravated in the past 12 months. Similarly, Shoe retailer Foot Locker is on bankruptcy watchlist as performance continues to disappoint amid falling foot traffic. In March, the company said it could shutter 400 U.S. retail stores, and close another 125 stores operated by its Champs Sports subsidiary. The retailer's total sales for Q1 2023 were $1.92 billion compared to $2.17 billion year-over-year. Net income for the three-month period ending April 29 was $36 million — a sharp drop from the $132 million reported for the period in 2022.CEO Mary Dillon attributed Foot Locker's sales decline to the "tough macroeconomic backdrop" that forced the company to lower product prices to "both drive demand and manage inventory."
Biden and crew are doing everything possible to take the nation down. Nations and banks around the world are buying Gold fast and at record amounts.  Do yourself or your family a favor, check out GOLD now – Whatfinger endorses Goldco, which has helped people all over America to protect their 401Ks and retirement – get the free details –  CLICK HERE or below…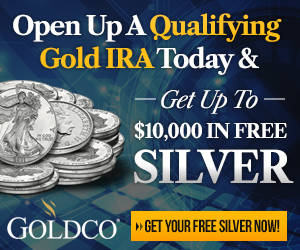 As a result, the company's revenue is expected to shrink by a whopping 10% for the year. The 11.4% drop in sales in the past quarter also led Foot Locker's stock to crash by 27% in a single day. The outlook is getting ugly for the brand, which desperately needs a new reorganization plan to survive the recession. Popular discount store chain Marshalls hasn't been immune from store closings and higher costs in the past few years. Right now, the company is conducting dozens of store closings, with locations in Minnesota and Pennsylvania shutting down this month. The brand is failing to differentiate itself from other discount retailers in the same category, and even after it launched a website in 2022, sales remained flat or in negative territory in the past 12 months. The firm blamed the slowdown in underlying sales on the 'uncertain macro-economic climate'.
Executives also warned that warned full-year results would miss expectations, which led shares to drop by 15%, reversing all of its 2021 gains.  Businesses are in for some major turbulence in the second half of 2023 and well into 2024. American consumers are still hurting, and spending is expected to continue to decline as job losses rise, and stagflation hits the U.S. A historic economic downturn is already in motion, and by the time we reach the end of it, hundreds of iconic stores will be long gone. That's why today, we listed several declining popular brands that may disappear before the end of 2023.