The Protesters in Idaho are Goofy af

— Alex Stein #99 (@alexstein99) February 12, 2023
I am so honored to have so many protesters — made up of nasty women who watch the view and their "low-T" husbands — here in Idaho!

Privilege of a lifetime. pic.twitter.com/fSASd1L8MM

— Marjorie Taylor Greene 🇺🇸 (@mtgreenee) February 12, 2023
• Rep. Marjorie Taylor Greene faced protests by nearly 100 people outside the Coeur d'Alene Resort in Idaho before she spoke at the Kootenai County Republican Central Committee's Lincoln Day Dinner.
• Protesters waved signs with messages like "Elect clowns, get a circus" and chanted "love lives here" along Sherman Avenue.
• Greene shared a video of the protesters on Twitter and referred to them as "nasty women who watch the view and their "low-T" husbands" sarcastically calling their presence in Idaho an "honor."
• One man, who called abortion "murdering babies," got into verbal altercations with some protesters, including Democrat Ann Marie Danimus.
• Danimus stated that Greene has achieved very little in office besides promoting hate and lies and called her the "Instagram model of the GOP."
• Protesters like Susie Rodger-Wilson said Greene is bad news for democracy and a traitor, while former Coeur d'Alene Mayor Steve Widmyer appreciated the freedom of speech exercised by both sides.
Thank you to the Kootenai County Republican Central Committee for having me as your keynote speaker at this year's Lincoln Day Dinner! pic.twitter.com/kqqlfMO6Xv

— Marjorie Taylor Greene 🇺🇸 (@mtgreenee) February 12, 2023
Some background and some more from our glorious Marjorie Taylor Greene…
Big things are happening in Idaho. If we want to take back our country it starts with taking back our local government.

This Saturday @RepMTG Marjorie Taylor Greene will be joining the KCRCC along with @alexstein99 Alex Stein for our Lincoln Day dinner. See you all there! pic.twitter.com/StmP6VW4Sm

— Kootenai County Republican Central Committee (@KCRCC) February 9, 2023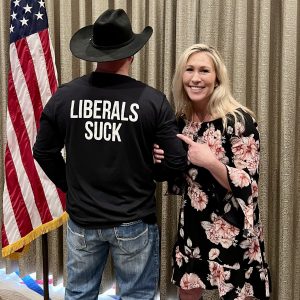 "Openly gay comms director" is higher on the list of priorities than fixing America's "open border." The world is openly laughing at us. – MTG (Marjorie Taylor Green)  See clip below she referenced
Jean-Pierre: "Ben [LaBolt] is making history. Here at the Biden White House, representation matters. He will be the first openly gay communications director." pic.twitter.com/5DdmHKit2l

— Greg Price (@greg_price11) February 10, 2023
---
Come on over to Whatfinger Daily – the new online newspaper sweeping the Conservative world…. we bet you make it one of your top 2 sites to visit daily (after Whatfinger News of course 🙂 – click here or logo below