A Deep State Menace Under Leftist Rule Rises
The FBI, as the United States' principal federal investigative agency, has been involved in various surveillance operations throughout its history, some of which have targeted American citizens. These activities have often been conducted under the umbrella of national security and counterintelligence efforts, with the goal of identifying and preventing potential threats to the country.
One notable example of FBI surveillance on American citizens was the COINTELPRO (Counterintelligence Program) operation, which was active from the 1950s to the 1970s. COINTELPRO was aimed at infiltrating and disrupting various domestic political organizations, including those associated with civil rights activists, anti-war protesters, and other dissenting groups. It involved extensive surveillance, infiltration, and sometimes illegal tactics to gather information and neutralize perceived threats.
Matt Gaetz DEMANDS immediate DEFUNDING of FBI:

"The FBI has sown more evil than they have rooted out. Congress must cut off their federal funding and make significant organizational changes."

— Benny Johnson (@bennyjohnson) May 19, 2023
In more recent times, concerns have been raised about the FBI's use of surveillance tools and techniques, particularly in the context of the digital age. For example, controversies emerged surrounding the FBI's use of National Security Letters (NSLs) to obtain personal information such as financial records, phone records, and internet usage data without a warrant. The use of these letters was subject to criticism and legal challenges for potential violations of privacy rights.
FBI whistleblower George Hill detailed allegations that the bureau wouldn't hand over J6 footage because the identities of uncover officers and informants could be revealed.

Hill joined @EmeraldRobinson to detail what he witnessed at the FBI first hand. pic.twitter.com/ZS1BtNQ72O

— The Absolute Truth with @EmeraldRobinson (@AbsoluteWithE) May 19, 2023
Abuse of Government Power Against Political Opponents Like Trump
It's worth noting that the scope and legality of FBI surveillance activities are subject to legal constraints and oversight mechanisms. The Foreign Intelligence Surveillance Act (FISA) establishes a framework for the use of surveillance techniques by intelligence agencies, including the FBI, in national security investigations involving non-U.S. persons. However, there have been instances where these surveillance powers have been misused or exceeded, leading to controversies and public debate.
This is chilling.
Bank of America spied on you. From 1/5-1/7/21 if you bought a gun in the DC area, they voluntarily gave the info to FBI. If you ever purchased a gun anywhere at any time, they also researched that.
NO WARRANT
Hear FBI agent testify. pic.twitter.com/QxtFG52FxG

— Booker (@BookerSparticus) May 18, 2023
Overall, the FBI's surveillance activities on American citizens have been a subject of scrutiny and concern, particularly when they intersect with civil liberties and constitutional protections. It's important to balance national security needs with the protection of individual privacy and ensure that any surveillance is conducted within the boundaries of the law and subject to appropriate oversight.
Breaking 🚨

"[FISA] gives the FBI and other intelligence agencies the ability to digitally surveil without a court order or a warrant."

"They [spied] on J6 protestors… even political donors (including over 19,000 donors to a congressional campaign)."https://t.co/Y8LgNgFanv pic.twitter.com/v5CCDQZ8Th

— Pepe Deluxe 🐸 (@deluxe_pepe) May 19, 2023
According to an unsealed filing from the Foreign Intelligence Surveillance Court (FISC), the FBI reportedly utilized warrantless search powers in an improper manner more than 278,000 times during the year ending November 2021. U.S. citizens affected by this improper conduct included individuals connected to the Capitol riot on January 6, 2021, and donors to an unsuccessful congressional candidate.
FBI:
Targeted School Board parents as terrorists
Targeted Catholics as terrorists
Paid for a phony Russian Dossier
Spied on a Presidential Campaign
Targeted a sitting President
Created a hoax to kidnap a sitting Governor
Had Undercover Agents involved with J6 pic.twitter.com/DikCEAbg02

— CulturalHusbandry (@APhilosophae) May 18, 2023
The Foreign Intelligence Surveillance Act (FISA), specifically Section 702, grants the government the authority to carry out targeted surveillance on non-U.S. persons located outside the United States to gather foreign intelligence information. When U.S. citizens become relevant to these investigations, the FBI assumes responsibility for querying them for potential security reasons. In response to the Foreign Intelligence Surveillance Court's findings, a senior FBI official expressed strong disapproval, emphasizing that the described errors were entirely unacceptable. The FBI has since revised its querying procedures to prevent such errors from occurring again, resulting in significant improvements to the manner in which lawfully obtained Section 702 information is accessed.
Kat Cammack provides clear evidence the FBI a has weaponized the justice system.. pic.twitter.com/u5GZtjRGLh

— Chuck Callesto (@ChuckCallesto) May 19, 2023
FBI violates its own rules to set up, attack Conservatives.
One FBI official affirmed the organization's commitment to ongoing efforts aimed at enhancing transparency and earning the trust of the American people. This work is crucial for balancing the nation's security concerns with the protection of privacy and civil liberties. Regarding the events of January 6, it was determined that FBI officials repeatedly violated their own protocols when conducting searches within a vast repository of foreign intelligence related to the insurrection and racial justice protests in 2020, as outlined in a court order released on Friday.
Does it make sense now?

This is the Democrat-Intel Agency playbook:

1. Something *true* comes out against the left.

2. The FBI, CIA & former 'intel experts' jump in to discredit it.

3. The left then cites all these intel officials to easily defend themselves.

4. The media… pic.twitter.com/SE24mqNdAc

— Collin Rugg (@CollinRugg) May 19, 2023
The thousands of violations, including improper searches involving donors to a congressional campaign, occurred prior to a series of corrective measures initiated in the summer of 2021 and continued throughout the previous year. However, these issues may complicate the FBI and Justice Department's efforts to obtain congressional reauthorization of a warrantless surveillance program. Law enforcement officials argue that such a program is necessary to combat terrorism, espionage, and international cybercrime.
BREAKING: 71% of Americans say the FBI needs reform to prevent future interference in elections – Harvard/Harris pic.twitter.com/A9peg8bQFN

— Jack Poso 🇺🇸 (@JackPosobiec) May 19, 2023
The violations detailed in the FISA court order, which exercises legal oversight over the U.S. government's surveillance powers, were disclosed in a redacted version released by the Office of the Director of National Intelligence. The transparency measures aim to address concerns and ensure accountability. Commenting on the matter, Patrick Toomey, Deputy Director of the ACLU's National Security Project, underscored the need for congressional intervention to curb what he views as the FBI's flagrant abuses of this law, including warrantless searches utilizing the names of individuals who made campaign donations.
This is heartbreaking. The FBI is this nation's No. 1 enemy.

— Juanita Broaddrick (@atensnut) May 19, 2023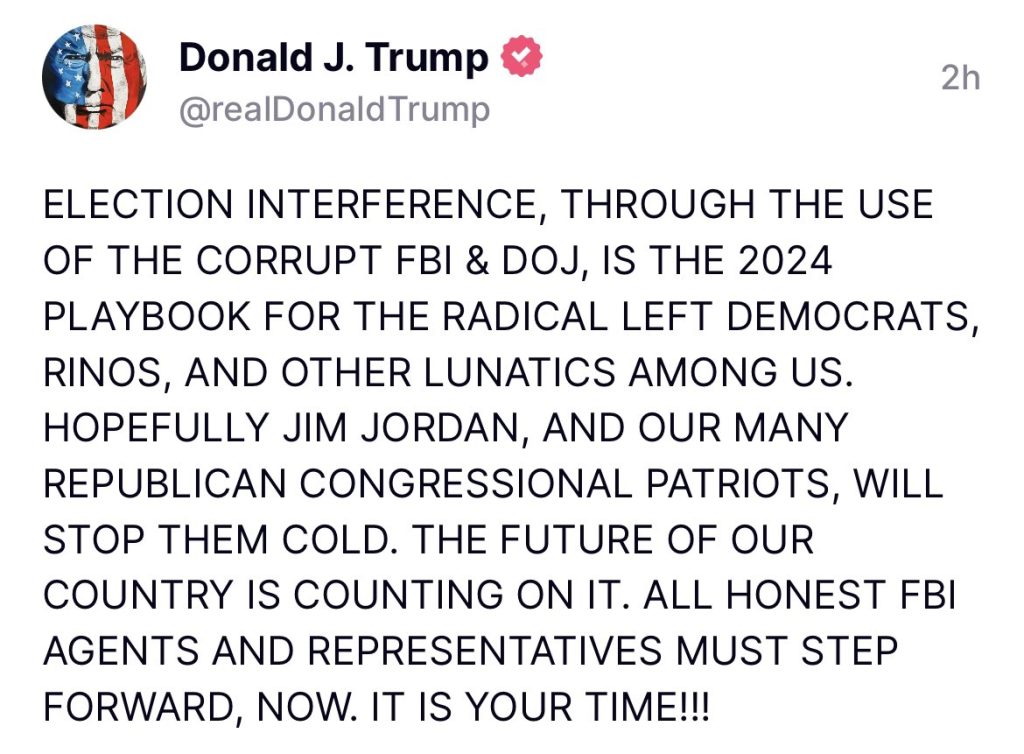 Quotes and Threads
Want to know more? 
More on topic from the net… For your research
VIDEO – Nikki Haley: FBI 'Spied on Americans' and 'Biden Needs to Answer for This' @nikkihaley https://t.co/hKGr7lQDH9

— Grabien (@GrabienMedia) May 16, 2023
FBI whistleblowers explaining why they risked their lives to EXPOSE Regime plot to target political enemies will give you CHILLS:

"We're just trying to do the right thing for this nation and if that means even becoming HOMELESS at the hands of the FBI, we're willing to do that." pic.twitter.com/I8uOruol79

— Benny Johnson (@bennyjohnson) May 19, 2023
Al Santana – Freelance Writer for Whatfinger News
To Submit articles to us for print send to editor@whatfinger.com  NOTE: We do not open any emails with graphics, PDFs or that require us to click anything due to viruses.  If you must send graphics, please email us at whatfingereditor@gmail.com
Biden and crew are doing all they can to tank the economy. Every move designed to bankrupt the US and send our wealth and tax dollars overseas. Which means, your 401K can get killed in the next 2 years of financial terror, with them in charge. Go Gold and you can possibly not only save your 401K and retirement, but you might make out as Gold does well in bad times.  CLICK HERE or below – Whatfinger with Goldco has helped people all over the U.S. get some security… and perspective…
Come on over to Whatfinger News – the Conservative answer to the Left-Wing Drudge Report, with more news daily than our next 7 competitors combined. CLICK HERE or below