A Republican leader in the Arizona Senate has issued a demand to counties, urging them to discontinue the use of current tabulation machines for ballot counting. This demand is based on a recently passed legislative resolution. However, it is important to note that this move lacks a legal foundation, and even some Republican colleagues have criticized the leader's argument.
Borrelli's Letter  (much more below)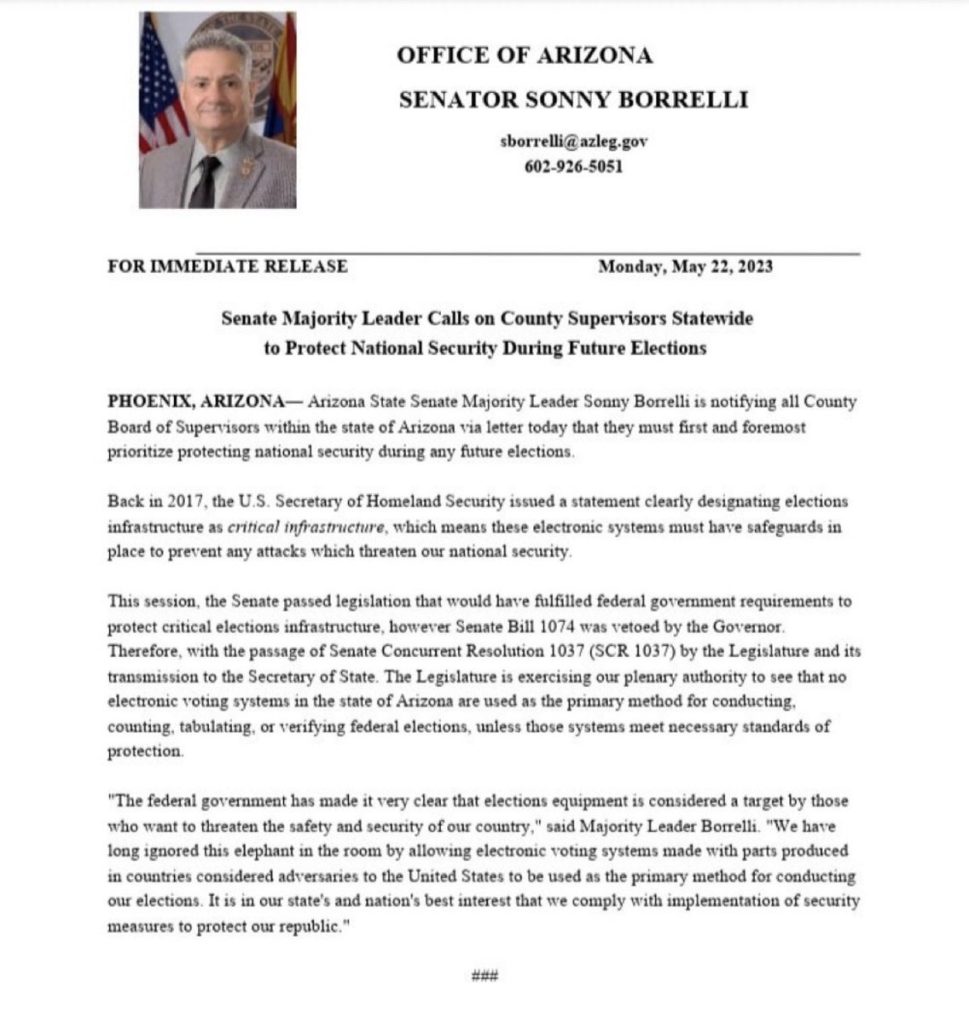 Senate Majority Leader Sonny Borrelli, representing Lake Havasu City, has written letters to county leaders across the state, asserting that "no electronic voting systems" should be utilized as the primary method for conducting, counting, tabulating, or verifying federal elections unless they meet the requirements outlined in the recent resolution passed by the Legislature.  Continued below video by Dr. Turley
However, it should be clarified that these requirements carry no legal weight, as swiftly highlighted by elections officials throughout the state. Secretary of State Adrian Fontes pointed out that Borrelli is relying on a non-binding resolution that was passed earlier this year with support solely from Republicans. The resolution, which did not necessitate the governor's signature, lacks the authority to alter state and federal regulations pertaining to election equipment, as expressed in Fontes' statement.
Republicans in the state Senate are instructing county election officials to refrain from using electronic equipment to cast, record, and tabulate ballots unless it is manufactured and assembled within the United States, which is not currently feasible. However, their assertions have been challenged by those who claim that Borrelli lacks a comprehensive understanding of the matter. Secretary of State Adrian Fontes has informed these county officials that they are free to disregard Borrelli's claims, which he asserts, incorrectly, as a requirement.
Arizona Senate Cracks Down On Voting Machines. Orders Compliance With Strict Outlines. @WendyRogersAZ pic.twitter.com/pEZJswBk40

— Grace Chong 🇺🇸 (@gc22gc) May 22, 2023
In a letter addressed to supervisors in all 15 counties on Monday, Senate Majority Leader Sonny Borrelli acknowledged that Governor Katie Hobbs vetoed legislation that would have imposed such a mandate. The governor stated that there is presently no equipment available that meets this requirement, thus rendering proper election operations unfeasible. Nevertheless, Borrelli highlighted that both the House and Senate approved a separate resolution, independent of gubernatorial consent, containing essentially the same provisions. Borrelli notified the supervisors that henceforth, they must exclusively employ equipment for elections that adheres to the domestic content requirement.
Clint Hickman, Chair of the Maricopa County Board of Supervisors, vehemently refuted these assertions, emphasizing that they hold no truth. In a prepared statement, Hickman emphasized that "a single member of the Arizona State Senate cannot make laws or direct other divisions of government to take actions counter to state law." He further elucidated that Arizona law mandates the use of tabulation equipment for counting paper ballots.
No one said Saving Arizona would be easy.

🌵 ⏩ pic.twitter.com/LMgswYGtja

— Kari Lake War Room (@KariLakeWarRoom) May 23, 2023
Constance Hargrove, Director of Elections in Pima County, concurred with Hickman's stance. In her statement, she clarified that the resolution in question is not legislation but rather an opinion of legislators. She stressed that it lacks the force of law.
Fontes, echoing the sentiments expressed by Hickman and Hargrove, asserted that if Borrelli and other lawmakers wish to impose such a mandate, they must garner the necessary votes to amend the existing law and have it signed by the governor. This, however, does not apply to the non-binding resolution in question.
This issue has arisen from baseless and unverified allegations that the voting equipment used in the 2020 election, which Donald Trump lost, was susceptible to hacking. There were even unfounded claims of a connection between Dominion Voting Systems and the family of the late Venezuelan dictator Hugo Chavez.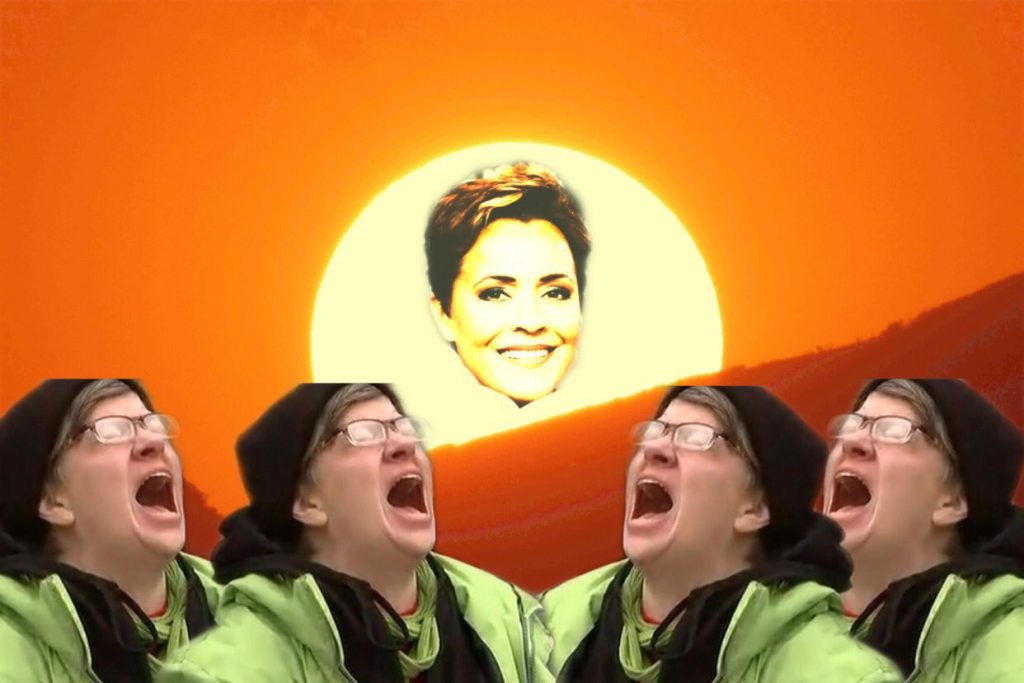 More recently, Kari Lake and Mark Finchem filed a lawsuit before losing their races for governor and secretary of state, respectively, in 2022. They sought to prohibit machine counts, claiming inherent unreliability. However, their lawsuit was dismissed by a federal judge and is now under appeal.
Meanwhile, Representative Steve Montenegro, from Goodyear, successfully advanced legislation earlier this year to prohibit the use of voting equipment containing foreign parts or not assembled within the United States. He argued that this measure is crucial for "national security." However, Governor Hobbs vetoed the bill, deeming it unworkable, despite its delayed effective date of 2028.
.@tracybeanz: "Their (Maricopa County's) point the entire time was that @KariLake had to prove that there was NO signature verification done, NO comparing done, that NOBODY followed the process. But that's not what the mandate came back down from the Arizona Supreme Court as. pic.twitter.com/2n4nN54rhX

— Kari Lake War Room (@KariLakeWarRoom) May 23, 2023
Undeterred by the governor's veto, Borrelli maintains that her action is inconsequential. He argues that the resolution adopted by a majority of House and Senate members supersedes the governor's decision. Borrelli claims authority based on the U.S. Constitution, which grants states the power to regulate the "times, place, and manner" of federal elections. According to him, this empowers the Legislature itself to determine that electronic voting systems, as a part of the "manner" of elections, are unauthorized if they contain foreign parts.
Furthermore, Borrelli contends that the issue extends beyond sourcing alone. The resolution asserts that only equipment from "trusted suppliers, using trusted processes accredited by the Defense Microelectronics Activity as prescribed by the U.S. Department of Defense" may be utilized for elections. It also advocates for the use of machines with publicly available source code. Additionally, it stipulates that ballot images and system log files from each tabulator must be recorded on non-rewritable media, ensuring a clear chain of custody, and made available on the Secretary of State's website, free of charge to the public, within 24 hours of polls closing.
.@KariLake: "Our state is being destroyed right now. And nobody believes that the people sitting in the state offices are legitimate. And that's why we must fight." pic.twitter.com/TewpYbVdwa

— Kari Lake War Room (@KariLakeWarRoom) May 22, 2023
Fontes clarifies that none of these requirements can be mandated through a resolution. He emphasizes that Arizona is currently adhering to the law, whereby election equipment must be certified by federal and state governments in accordance with specific requirements outlined in federal and state legislation. Fontes further asserts that any modification to these requirements or certification processes would necessitate the passage of a regular bill by the Legislature and its subsequent signing by the governor.
Big stuff. https://t.co/sUdjJJ8dUk

— Kari Lake (@KariLake) May 22, 2023
Regarding any additional legal inquiries, Fontes defers to Attorney General Kris Mayes. A spokesperson for Mayes confirms that she agrees with Fontes, stating that the resolution on which Borrelli relies holds no legal weight.
Hickman, a fellow Republican alongside Borrelli, acknowledges the senator's intentions. He affirms support for sourcing machinery and components manufactured in the United States. However, until that becomes a viable option, the Board of Supervisors will allocate the necessary funds to acquire Election Assistance Commission certified equipment in order to conduct accurate and secure elections, as defined by state law.
My article about the last day of Kari Lake's election contest trial is up, with an analysis of the standard she needs to prove. There is no way the AZ Supreme Court (if appealed) will agree with the defense's impossible interpretation of that standard. https://t.co/lvURkOqVnD

— Rachel Alexander (@Rach_IC) May 22, 2023
Want to know more? Here you go…
---
James Kravitz – Freelance Writer for Whatfinger News
To Submit articles to us for print send to editor@whatfinger.com  NOTE: We do not open any emails with graphics, PDFs or that require us to click anything due to viruses.  If you must send graphics, please email us at whatfingereditor@gmail.com
Biden and crew are doing all they can to tank the economy. Every move designed to bankrupt the US and send our wealth and tax dollars overseas. Which means, your 401K can get killed in the next 2 years of financial terror, with them in charge. Go Gold and you can possibly not only save your 401K and retirement, but you might make out as Gold does well in bad times.  CLICK HERE or below – Whatfinger with Goldco has helped people all over the U.S. get some security… and perspective…
Come on over to Whatfinger News – the Conservative answer to the Left-Wing Drudge Report, with more news daily than our next 7 competitors combined. CLICK HERE or below