This is today's super-thread on the WEF and Globalist maniacs out to destroy all freedom world-wide.
Everything that has happened.. from the time Biden was installed.. is because of this.. few knew at the time it was a genocide program.. now billions know. The WEF & WHO along with US Gov is the culprit.. pic.twitter.com/tYS3A9fc8o

— XRP – Crushing Dem Lies (@mandtfarm) May 5, 2023
Scientists Warn 'WEF Diet' Will Make Humans Go Extinct Scientist have warned that the meat-free 'WEF diet' will end up killing off the human race and cause those who remain alive to become weak, disease-ridden shells.   See The People's Voice
WEF – Launched trusted messengers called 'Project Halo' and trained their scientists in Tik tok, then had them verified, in order to spread their narrative over all others! Because they "own the science"  Fast clip – 
This is how @wef operate. Note tiktok involved pic.twitter.com/5AJ0g3vp8f

— David Vance (@DVATW) May 4, 2023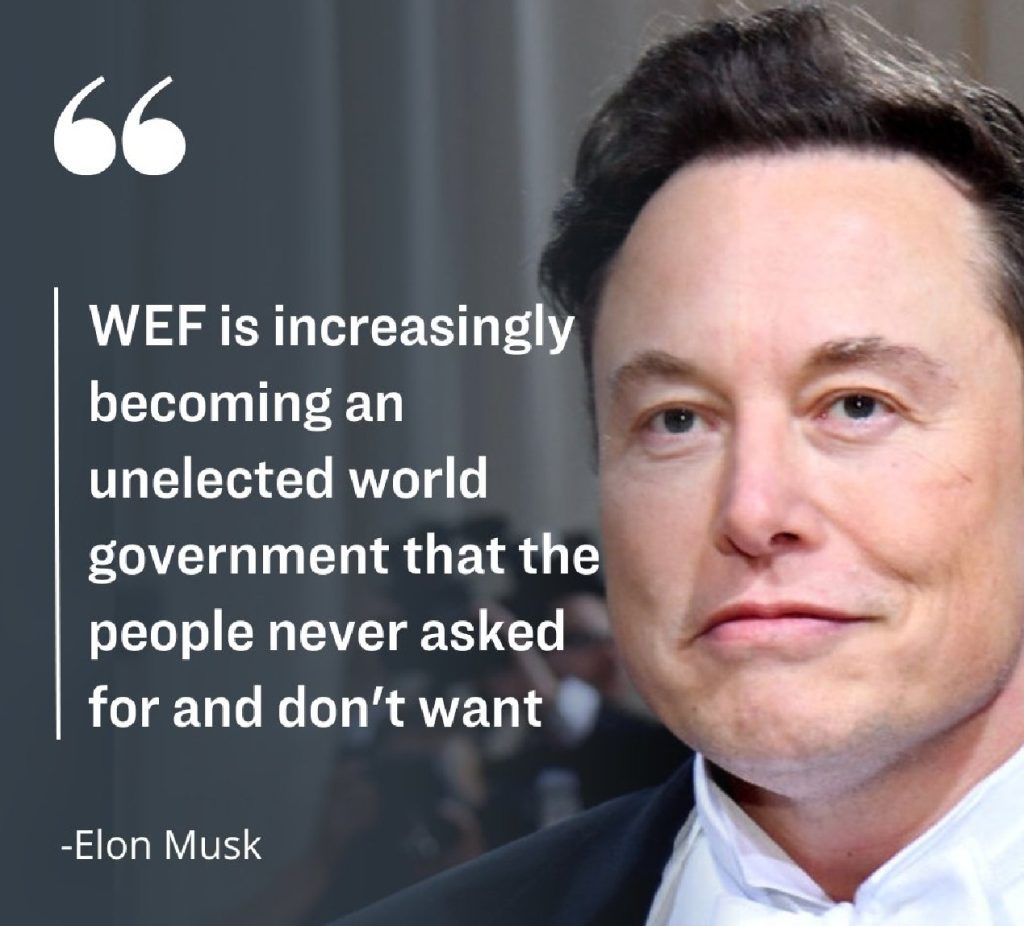 'Water is Not a Human Right'

WEF Orders Governments to Begin Rationing Water into Homes. pic.twitter.com/EvUVkk2NYO

— Stew Peters (@realstewpeters) May 5, 2023
WEF – is developing an Individual Carbon tracker.

Where you travel, how you travel & what you eat.

Council plans now show schemes to reduce your individual carbon footprint.

Listen to your future 👇🏻

— Bernie's Tweets (@BernieSpofforth) May 2, 2023
🚨🚨🚨 Listen to this little rat, Yuval Noah Harari of the WEF : "humans are hackable animals – this whole idea that humans have a soul or spirit or free will, THATS OVER"

Absolute psychopath 👇 pic.twitter.com/wYzRE1SrT3

— Kevin – WE THE PEOPLE❤️ – DAD🦁 🐉 🔥 – (@bambkb) May 4, 2023
The WEF wants to Slaughter Millions of Pet Cats and Dogs To Fight Climate Change.
All of the WEF Agenda is twisted, but if they go after our pets, they will have everyone standing up against them! Going after our pets is NO different than going after our children and for… pic.twitter.com/0nsXhvmpnh

— ꪻꫝể ꪻꫝể (@TheThe1776) May 2, 2023
This new WEF promotional video for the Great Reset is so weird pic.twitter.com/R3iWicJHFR

— Blair (@skifflegirl) May 5, 2023
Klaus Schwab is the head of the Terrorist organisation WEF… https://t.co/koTvABbZOu pic.twitter.com/0Vysdh6UM7

— Fraser mega freedom (@Followthrough23) May 2, 2023
Want to know more? 
Biden and crew are doing all they can to tank the economy. Every move designed to bankrupt the US and send our wealth and tax dollars overseas. Which means, your 401K can get killed in the next 2 years of financial terror, with them in charge. Go Gold and you can possibly not only save your 401K and retirement, but you might make out as Gold does well in bad times.  CLICK HERE or below – Whatfinger with Goldco has helped people all over the U.S. get some security… and perspective…
Come on over to Whatfinger News – the Conservative answer to the Left-Wing Drudge Report, with more news daily than our next 7 competitors combined. CLICK HERE or below