Credit card debt experiences significant growth at the second-fastest pace on record. Recent trends contradict the notion of tight credit. Approximately one month ago, our prior warning about the imminent tightening of consumer credit in light of the disheartening Senior Loan Officer Opinion Surveys proved accurate. These surveys indicated near-record stringency in lending standards alongside a historic decline in credit demand. As expected, the growth of U.S. credit card debt had slowed considerably. Revolving credit increased by a mere $5 billion, a substantial decrease from the $12.8 billion observed in January, and a notable departure from the $13.7 billion average over the last twelve months. This represents the smallest increase since April 2021.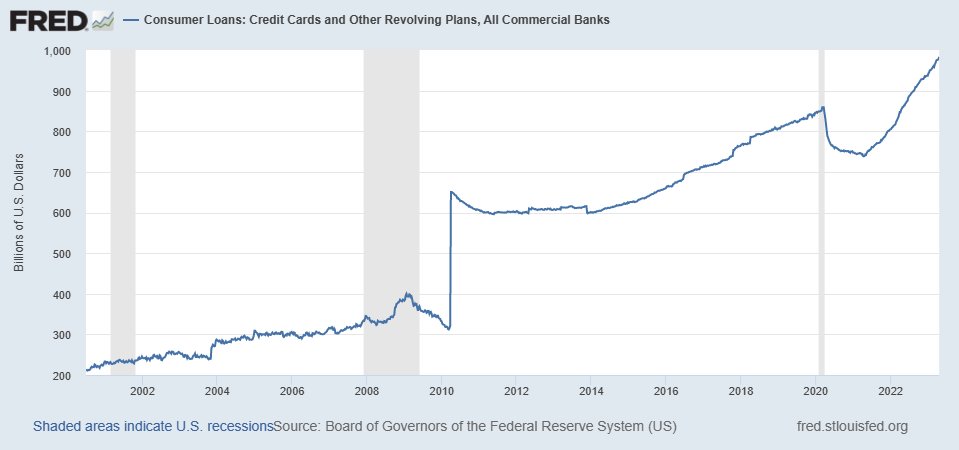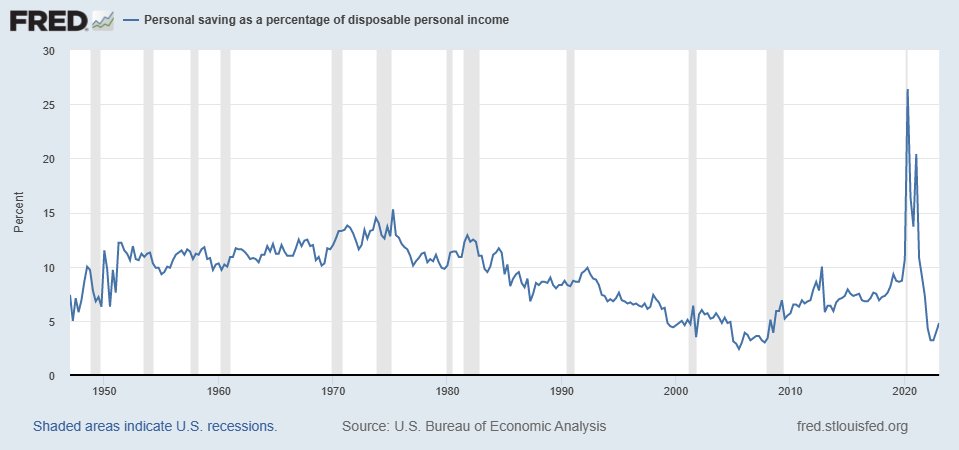 Based on the available data, our analysis concluded that it remained uncertain whether the sluggish growth in credit card usage resulted from weak demand or a sudden constriction of supply. Further insights will be gained once the next Senior Loan Officer Opinion Survey is published in a month's time. However, the implication is clear: one of the most influential economic support systems is stagnating. Furthermore, the recent decision by the Federal Reserve to raise interest rates will amplify the cost of carrying existing credit card debt. This 0.25% (or 25 basis points) increase in the benchmark interest rate will likely lead to subsequent increases in annual percentage rates for credit cards.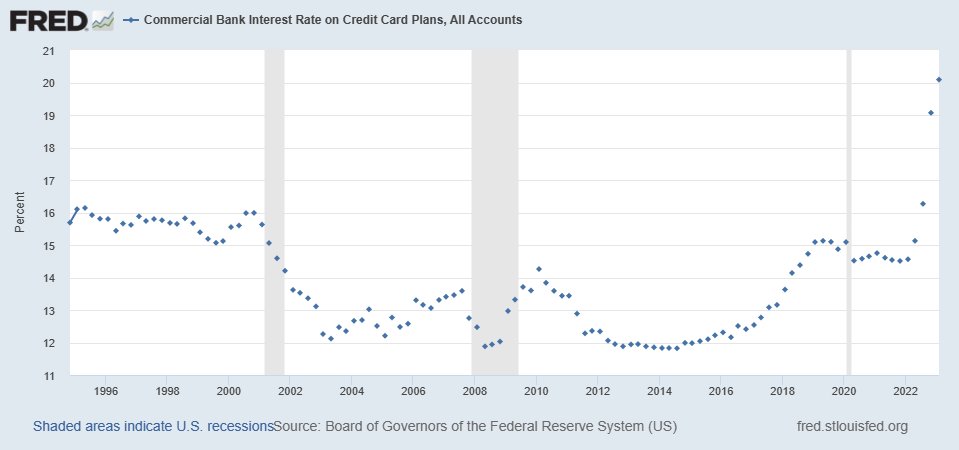 While the U.S. central bank does not directly establish interest rates, its actions reverberate throughout the financial market, inevitably affecting consumer financial products such as credit cards, savings accounts, and loans. Raising the benchmark interest rate constitutes the Federal Reserve's primary tool in combatting inflation. This most recent rate hike marks the tenth consecutive increase since March 2022, resulting in a target range of 5% to 5.25% for the benchmark interest rate. This range is the highest it has been since the Great Recession of 2007.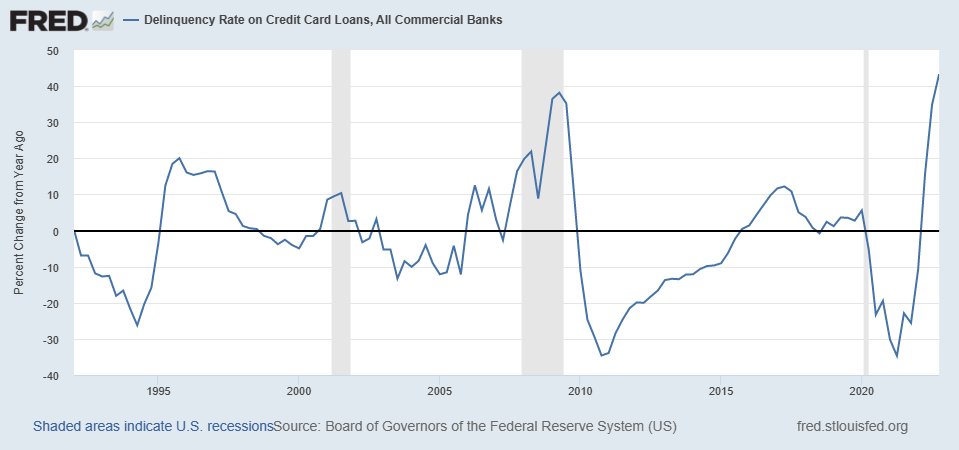 According to the latest Consumer Price Index report published by the U.S. Bureau of Labor Statistics, inflation in March was measured at 5% year over year. This figure represents a slight decrease from the 6% observed in February and a significant decline from the record high of 9.1% in June 2022. Although the inflation rate still falls short of the Federal Reserve's 2% target, the downward trend over the past few months demonstrates the effectiveness of the central bank's disinflationary measures. Many experts anticipate that the rate hike in May may be the last for the foreseeable future.
Consumer Credit Shocker: Credit Card Debt Explodes At 2nd Fastest Pace On Record Just As Rates Hit All-Time High https://t.co/uiCeYS0Z12

— zerohedge (@zerohedge) May 5, 2023
Jaan Leewig – Freelance Writer for Whatfinger News
To Submit articles to us for print send to editor@whatfinger.com  NOTE: We do not open any emails with graphics, PDFs or that require us to click anything due to viruses.  If you must send graphics, please email us at whatfingereditor@gmail.com
Biden and crew are doing all they can to tank the economy. Every move designed to bankrupt the US and send our wealth and tax dollars overseas. Which means, your 401K can get killed in the next 2 years of financial terror, with them in charge. Go Gold and you can possibly not only save your 401K and retirement, but you might make out as Gold does well in bad times.  CLICK HERE or below – Whatfinger with Goldco has helped people all over the U.S. get some security… and perspective…
Come on over to Whatfinger News – the Conservative answer to the Left-Wing Drudge Report, with more news daily than our next 7 competitors combined. CLICK HERE or below