Agents from the Bureau of Alcohol, Tobacco, Firearms and Explosives (ATF) are currently engaged in a door-to-door operation to seize forced reset triggers (FRTs), as captured in a widely circulated video. The methods employed by the ATF to identify those who have purchased these devices remain unclear.
This is tyranny. These "agents" are criminal domestic terrorists and oath breakers. Not sure there's a simpler way to explain this video. –  Mr. Gunsngear
On the day in question, ATF agents visited the residence of the individual who claims ownership of Moonlight Industries, an Arizona-based company known for producing discreet chest rigs. At the time of this report, Moonlight Industries has not responded to the request for comment from American Military News. In the viral video, an ATF agent can be heard inquiring, "Were you expecting us?"
The agent proceeds to explain the purpose of their visit, stating that the recent classification by the ATF now designates FRTs as machine guns. Consequently, the agency is aware that individuals may have obtained such FRTs and, as a result, they are coordinating a comprehensive effort to locate and collect these devices from their respective purchasers.
They always go to disarm you first. Which means, if they try it in the U.S….
Please note that the provided information is based on the available video footage and the account of the encounter, and may be subject to additional developments or clarifications.
Armed ATF Agents Going Door To Door To Seize FRTs & Entrap Americans
Rep. Jim_Jordan and I sent ATF Dir. Dettelbach a letter asking him to clarify whether the compliance option he suggested for pistol brace owners in his Congressional testimony was accurate & complete. If he was wrong, he may have just put millions of owners in legal jeopardy.  Here it is…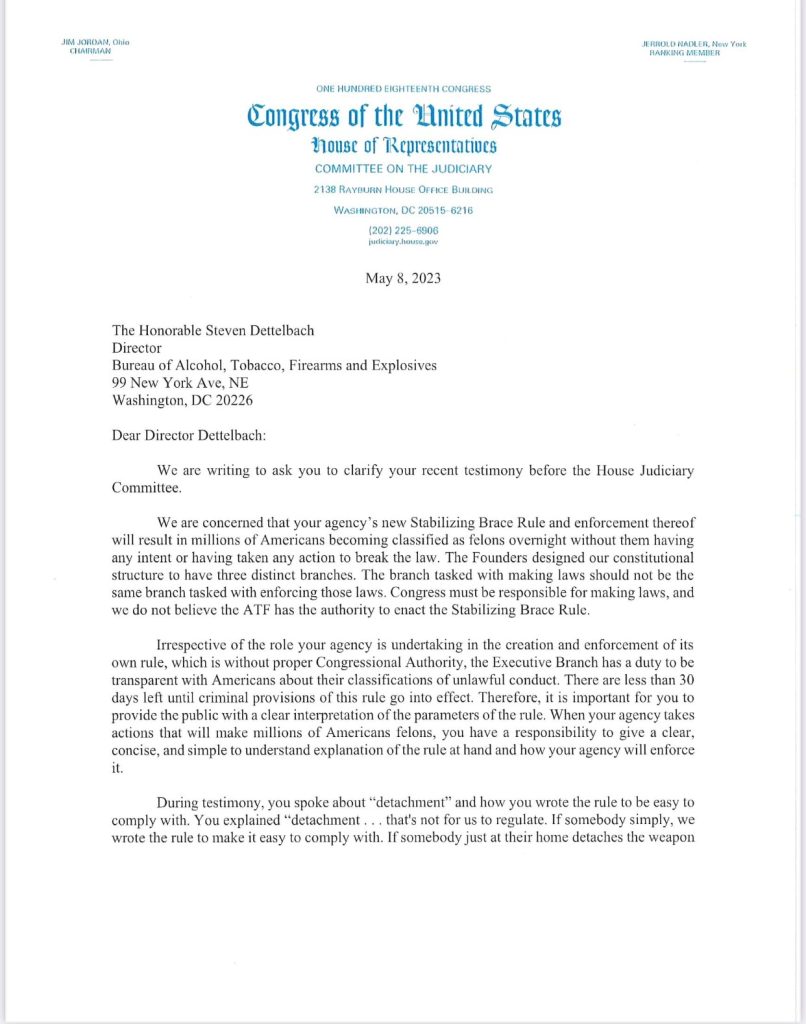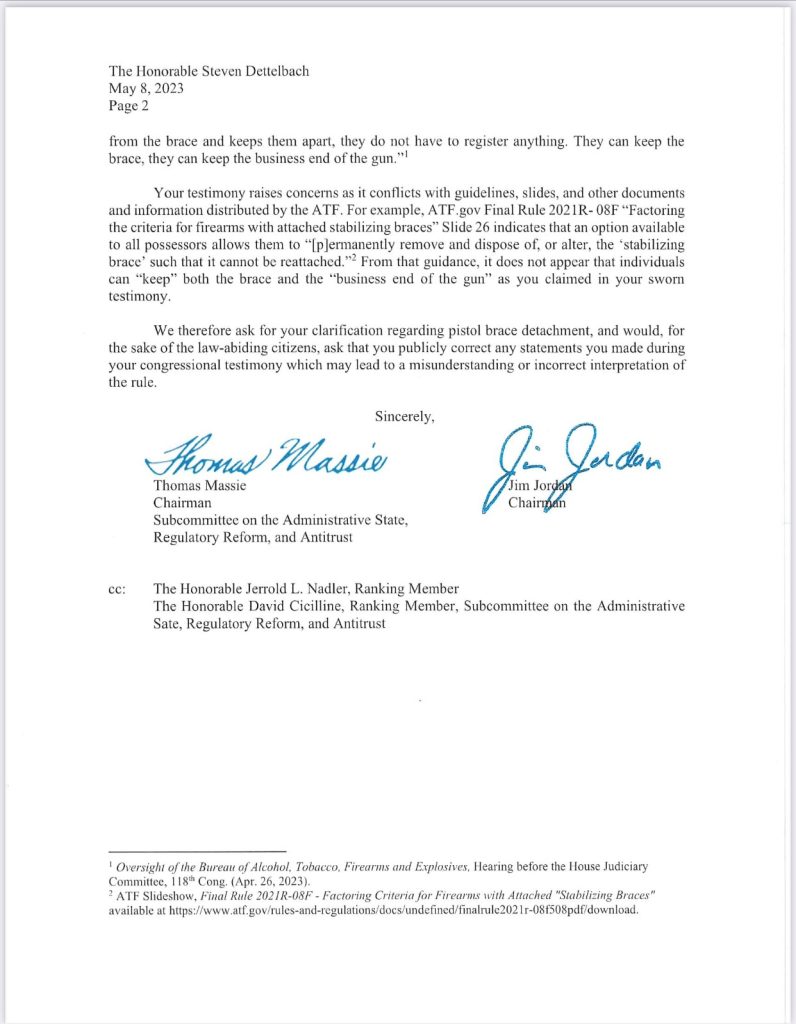 The Leftist Himself – – – 
Biden's ATF Director supports an assault weapons ban…

But when asked to define what an "assault weapon" is, says "I'm not a firearms expert" pic.twitter.com/5k0VVOZsSW

— Tim Young (@TimRunsHisMouth) May 10, 2023
Threads and Comments…
Want to know more? 
More recently on the net…
Gun confiscation makes as much sense as this. pic.twitter.com/flfwnQqWgL

— B E A R 🐻 looking for a few good followers (@TuCreavitNos) May 7, 2023
Just remember folks when Democrats want " common sense" gun laws. What they really mean is they want back door gun confiscation. And any Republican who's for red flags laws and " common sense" gun laws. Is violating your constitutional right and is no different than a Democrat pic.twitter.com/XeDhb12kZG

— Johnny (@jrosejunior1975) May 9, 2023
Let's be honest, this is the real reason that they push for gun confiscation: pic.twitter.com/Ul3jamYAqD

— Kate (@thoughts_w_Kate) May 8, 2023
WATCH: @RepThomasMassie absolutely GRILLS the ATF Director on Jan. 6 pipe bomb investigation.

"I'm not accepting that answer from you." pic.twitter.com/PIaXGoMOCD

— Young Americans for Liberty (@YALiberty) May 8, 2023
Al Santana – Freelance Writer for Whatfinger News
To Submit articles to us for print send to editor@whatfinger.com  NOTE: We do not open any emails with graphics, PDFs or that require us to click anything due to viruses.  If you must send graphics, please email us at whatfingereditor@gmail.com
Biden and crew are doing all they can to tank the economy. Every move designed to bankrupt the US and send our wealth and tax dollars overseas. Which means, your 401K can get killed in the next 2 years of financial terror, with them in charge. Go Gold and you can possibly not only save your 401K and retirement, but you might make out as Gold does well in bad times.  CLICK HERE or below – Whatfinger with Goldco has helped people all over the U.S. get some security… and perspective…
Come on over to Whatfinger News – the Conservative answer to the Left-Wing Drudge Report, with more news daily than our next 7 competitors combined. CLICK HERE or below