Marxist run cities like NYC and San Francisco will get worse every day so get out now while you can.
Americans are having some frustrating shopping experiences at grocery stores for quite a while now. With prices still reaching new record-highs, shoppers have started cutting on meat and produce, and swapping pricier purchases for frozen or canned products, according to a May survey from the Food Industry Association. The slower consumption is leading some struggling chains to cut costs wherever they can, and that oftentimes means closing underperforming locations.  Continued below the vid…
Trying to stay afloat, several grocers have been forced to make massive strategic shifts as they cope with difficulties like inflation, labor shortages, shipping delays, and security concerns, at a time sales and profits are going down. News of major companies like Walmart, Amazon Fresh, and more closing multiple stores permanently has been circulating on the internet over the last few months. While we already reported some of these closures in our previous videos, today, we decided to compile all the latest announcements of store shutdowns made by some of the biggest food retailers in America. For instance, if the Albertsons-Kroger merger gets approved, by the end of the year, at least 300 Albertsons stores may be gone for good. That's because the chain must sell locations in areas where the grocery chains overlap to try to fend off antitrust challenges to Kroger's $25B acquisition of the supermarket chain.
Last Walmart in North Portland Closing Down … they cannot overcome the losses from shoplifting.

The people of Portland voted for this so retail stores are exiting. 🤡 🌎

— Wall Street Silver (@WallStreetSilv) May 19, 2023
Earlier this year, a class-action lawsuit filed by a group of 25 US consumers argued that the merger would result in a grocery behemoth with a 36% share of the US market at a time when inflation is still gripping food prices. "If Kroger's proposed acquisition of Albertsons is consummated, the companies' combined power will be used to increase prices for groceries, decrease the quality of food, eliminate jobs, close stores, and offer less choice for consumers due to the overlap in geographic areas," the lawsuit states. Regardless of the outcome, Albertsons is now closing 26 locations along the western, northwestern, and southwestern regions of the U.S. to save costs, according to Boise Weekly. Twelve stores are located across Southern California, including Long Beach, Canyon Country, Chula Vista, Woodland Hills, Los Angeles, Huntington Beach, Monrovia, Moorpark, Ontario, San Diego, Valencia, and Whittier, and eleven stores across Washington, Oregon, and Nevada, and as well as stores in western Idaho will be shut down because of underperforming sales, said spokespersons for their respective divisions, according to Orange County Register.
Why are retail stores closing down in cities? pic.twitter.com/dxek93YoZ3

— Ian Miles Cheong (@stillgray) May 16, 2023
For many communities, the absence of their local grocery stores is going to be critical. The "Food Access Research Atlas" constructed by the USDA defines low access to healthy food related to being far from large grocery stores or supermarkets. In the last few months, grocery store shutdowns in multiple regions have turned them into food deserts. This term describes regions with a lack o supermarkets to supply local residents with fresh food and produce. Needless to say, this greatly affects the community's food security. From fruits and veggies to milk, sugar, and more, a household with elderly or children is always in need of fresh groceries.
"The U.S. #consumer at both the higher end and the lower end is struggling more," says Rockefeller's Avery Sheffield. "I would think very differently about some of these very expensive, great [retail] brands that are also potentially cyclical." pic.twitter.com/ltPZyxF8Ru

— CNBC's Closing Bell (@CNBCClosingBell) May 19, 2023
That's why this situation is so concerning for millions of U.S. families who won't be able to purchase the supplies they need to get by every week and will be forced to travel to other cities to have access to food. This situation must be addressed swiftly, otherwise, more and more food deserts will continue to emerge all across the country.
Retail thefts increased 77% NYC wide just in 5 years. Queens alone retail thefts increased 101%, 44% increase since last year. In 2023. 250 people who were arrested almost 2500 times are responsible for 30% of shoplifting.

NYC mayor to combat systemic retail theft is setting up… pic.twitter.com/1dqV5QXlvj

— I Meme Therefore I Am 🇺🇸 (@ImMeme0) May 20, 2023
Why Marxist cities like NYC will never recover until the Democrats are gone…. Here is their fake plan, that is repeated in all Democrat cities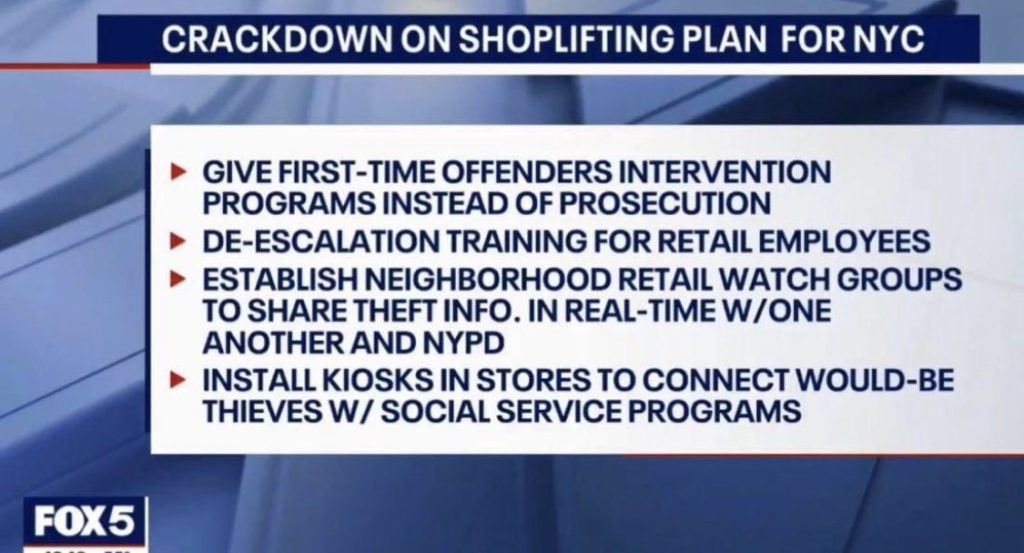 Shoplifter gets caught by police while shoplifting pic.twitter.com/wOOXZOXph1

— Clown World ™ 🤡 (@ClownWorld_) May 11, 2023
Want to know more? Here you go…
---
James Kravitz – Freelance Writer for Whatfinger News
To Submit articles to us for print send to editor@whatfinger.com  NOTE: We do not open any emails with graphics, PDFs or that require us to click anything due to viruses.  If you must send graphics, please email us at whatfingereditor@gmail.com
Biden and crew are doing all they can to tank the economy. Every move designed to bankrupt the US and send our wealth and tax dollars overseas. Which means, your 401K can get killed in the next 2 years of financial terror, with them in charge. Go Gold and you can possibly not only save your 401K and retirement, but you might make out as Gold does well in bad times.  CLICK HERE or below – Whatfinger with Goldco has helped people all over the U.S. get some security… and perspective…
Come on over to Whatfinger News – the Conservative answer to the Left-Wing Drudge Report, with more news daily than our next 7 competitors combined. CLICK HERE or below